Get the KTTC Weather App
At KTTC, we know you take your weather seriously. That's why Your Weather Authority is proud to offer the KTTC Weather app for Android and iOS devices.
To get the new version, simply update your current KTTC Weather app for iOS and Android phones and tablets. If you haven't downloaded our weather app yet, go to the Google Play store for Android phones and tablets or to Apple's app store on your iPhone or iPad, or click this link if you are currently viewing this page on a smartphone. You can also scan the QR code on the graphic below!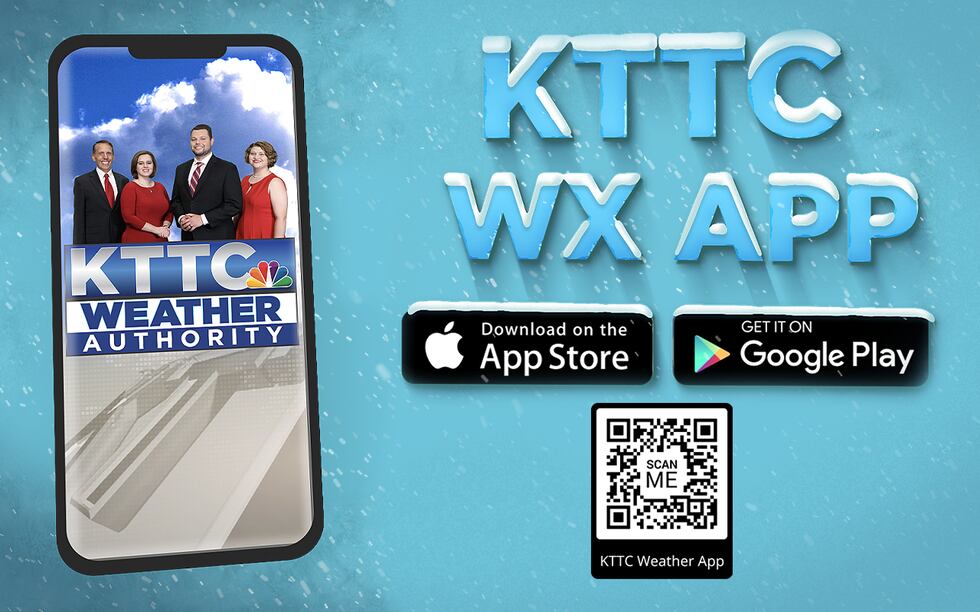 The new app features a user-friendly scrolling interface, which puts information like current conditions, Interactive Radar, and the latest video forecast at your fingertips. Just click "See More" for further information.
When there is severe weather, we've got you covered. In-app headlines and voice alerts from KTTC Chief Meteorologist Nick Jansen alert users to watches and warnings. Find all of the local school and business delays, closings, and cancellations in the app as well.
Show us and other viewers what the conditions are like where you are by submitting your weather photos and photos directly through the app.
If you have questions or a technical support issue, please click here to send us an email.
To get the new app, simply choose the "update" button on your phone or tablet. If you don't have our app yet, simply go to your favorite app store and search for KTTC Precision Weather app or KTTC.
Thank you for choosing KTTC: Your Weather Authority.