Multimedia Journalist, Fill-in Anchor
KEYC Mankato, MN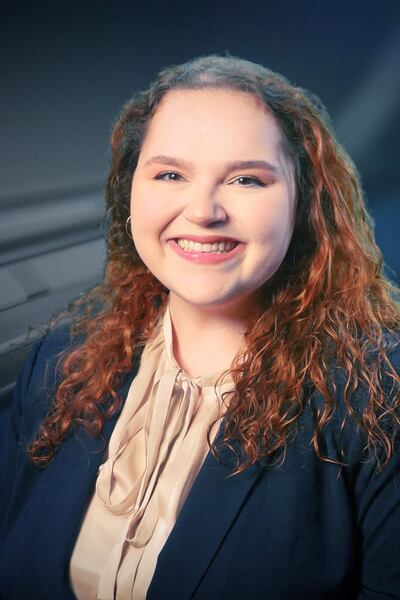 Maddie Paul is a multimedia journalist for KEYC News Now. She joined the team in May 2022.
Looking for opportunities in the media industry, Maddie transferred to Minnesota State University, Mankato, from South Dakota State University, in Brookings, SD, right before the Covid-19 pandemic hit the United States in 2020. During her time at MNSU, Maddie worked as a public relations representative for the Centennial Student Union. Maddie graduated from MNSU in May, 2022, with a Bachelor of Arts in Film and Media studies.
From an early age, Maddie knew she loved performing. She grew up loving music, art, and theatre, and the community theater was her second home. Although she stopped performing after her freshman year in college, Maddie still has a soft-spot for theatre.
Maddie is passionate about covering stories that cover a little bit of everything- community, politics and crime, arts, technology, weather, education and more.
In her free time, Maddie spends time in local coffee shops, thrift stores, and parks- so you'll see her around. Have a story idea? Reach out to Maddie through email: madeline.paul@keyc.com
Hometown?
Thousand Oaks, CA, and Sioux Falls, SD
What's your favorite part of your job?
I love experiencing something new every day and meeting people who care about their community. I love sharing stories and news that can impact at least one viewer.
What did you want to be when you were growing up?
I wanted to do everything. But at some point in the future, I want to voice-act for a movie or video-game!
What got you interested in news?
Broadcast news impacts and appeals to all people, no matter who they are. Our shows are essential for community growth and general awareness- I can't imagine working anywhere else.
What person do you most admire?
Every single person in my family. They're my biggest inspirations.
What's your favorite sport to watch?
Basketball and Figure Skating
Do you have any hidden talents?
I can play violin!
What's one thing you cannot live without?
The dangly things on my glasses
What are your hobbies?
Thrifting, watching movies, doing anything outside, scrap-journaling, gaming, theatre and more!
What's your proudest moment?
Organizing a non-profit organization with my friends and the community to raise money and awareness for Friedreich's Ataxia.
Education
Minnesota State University