Evening Anchor
Rochester, MN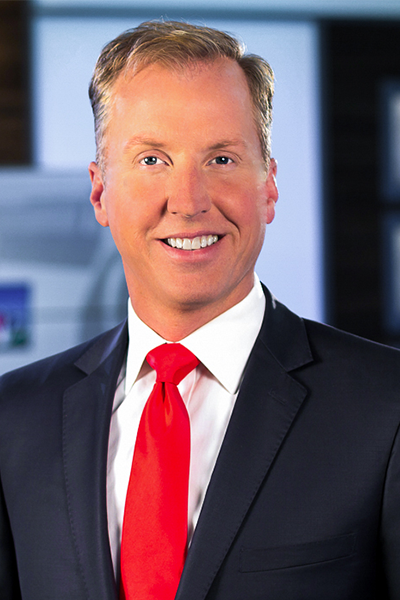 Tom Overlie is an Emmy-award winning journalist who's called Rochester home for more than two decades. He was born in Minneapolis, and grew up in southern North Dakota and Nigeria, Western Africa.
When he was younger, Tom wanted to be an explorer who'd travel to far-flung jungles and remote islands in search of buried treasures. He also wanted to be a news reporter like Al Gustin, a longtime television journalist in North Dakota. Fortunately, he met Al as a high school sophomore and that helped to set his path in television news (he never met Indiana Jones from Raiders of the Lost Ark or things could have ended up quite differently…) Tom's biggest heroes, though, are his parents who published local newspapers and a magazine for more than three decades. The smell of printing ink still jogs memories of his youth helping his mom and dad at the newspaper where he learned the craft of storytelling and journalism.
Tom has anchored the evening news for more than thirty years. He's anchored and reported for KEYC-TV in Mankato, KMOT-TV in Minot, North Dakota, and has been the primary KTTC 6 and 10 pm co-anchor since May 2000.
Tom likes to stay active. When he's not at KTTC, he's flipping homes, hanging out on his boat, traveling to far-away lands, and volunteering time at various local organizations. He's the winner of 8 Emmy Awards for best newscast (Upper Midwest Chapter), and has received honors from the Minnesota Broadcaster's Association, Minnesota Associated Press, Northwest Broadcast News-Eric Sevareid Award, and the North Dakota Broadcasters Association. Through the years, news reports have taken him from the "backyard" to remote villages in the heart of Mexico.
Tom is a journalist because he's inquisitive, and he gets to learn—and share with KTTC viewers—new things every day. Some of his favorite memories are a one-on-one interview with a sitting president, parachuting from an airplane at 16,000 feet while broadcasting live, and hosting the longest running, locally produced telethon in the nation which has raised millions for cancer research.
When he finishes his journalism career someday, you'll find Tom on a rickety boat, sailing the world to remote islands in search of buried treasures. And Indians Jones.