Finding Madeline: Episode Two
Published: Nov. 16, 2023 at 6:53 PM CST
ROCHESTER, Minn. (KTTC) – Madeline Kingsbury's loved ones are now facing the unimaginable. Their daughter, mother, sister and friend vanished without a trace. Her close friend Katie Kolka recounted that sleepless night.
According to Katie, Madeline was going through a rough patch and confided in her one night.
"I was scrolling through Facebook, and I just saw this meme about your life will get better and it was a butterfly thing, so I sent it to her. It was like 2 o clock in the morning. I woke up to a text the next morning saying oh my gosh you're making me cry I love you," Katie remembered.
Friday, March 31st
Friday, March 31 started out like any other. Madeline responded to texts from family and friends while she got two kids ready for daycare.
"I had sent her like a funny picture of her from a trip we took last summer to the east coast, and she responded, 'oh I'm so ugly' you know joked a little bit about that," Madeline's sister Megan said.
Around 8 a.m., Madeline and the father of her children, Adam Fravel, continued with their normal routine, dropping the kids off at daycare. When they got home, Madeline was supposed to log into work and go to Rochester late that day. Adam planned to continue moving his belonging out of the townhome the two shared.
Megan said Madeline never responded to her text.
"I knew she was traveling. Between that and daycare and whatever kind of errands that she does in Rochester after work or in Winona. I didn't think anything of it that she hadn't reached out anymore that day," Katie explained.
According to investigators, Adam texted Madeline asking about supper plans and when she would be home. When he didn't get a response, Adam picked the kids up and brought them to his parents' house in Mabel.
By nightfall, no one had heard from Madeline. To friends and family, this was out of character. Her sister Megan began to worry.
"I had sent a message to Adam like have you heard from Madeline, what's going on? I learned that he was at his parents with the kids and that concerned me because he didn't typically take care of both of them by himself," Megan said.
Megan then messaged Katie, asking if she had heard from Madeline.
"It was at that moment, I just felt frozen, but I also, I felt fear," Katie remembered.
Katie drove over to the town home and was met with Madeline's dark blue Chrysler van backed into the driveway.
"I stopped and panicked even harder. I had my husband on the phone. I'm like her van is backed in. I know Maddie. She doesn't back in, and she was supposed to be gone the next day with her daughter so she should have been home with at least her daughter," Katie said.
Katie then pounded on the door and windows, growing more worried by the second. Through a window, Katie could see a jacket Madeline often wore.
"I got back to her sister, and said I think it's time to call the police,' Katie said.
Winona Police arrived at the home and followed Katie's steps. The landlord of the townhome let officers in. There was no sign of Madeline.
"It was unlike her enough, that's why we wanted to file a missing person's report right away," Megan explained.
For Katie and her husband, the search for Madeline started that night. Adam's sister Theresa Sis grew worried too.
"I was told that night that she never came home from work um, I was very confused, and I don't even know how to explain it something that you never think that would happen to your family," Theresa said.
It would be a sleepless night for many as they waited for the phone to ring hoping it would be Madeline on the other side.
"I was very nervous. I was pacing around in my kitchen and just the longer that we went without hearing from her, you just go through a lot of different scenarios in your mind about what could have happened," Megan said.
Reported Missing
On April 1, Megan and her mother Krista Naber got up early to drive from Minneapolis to Winona while Madeline's father David Kingsbury filed a missing person's report.
The family asked Katie to calmy start asking friends if they had heard from Madeline.
"She kept in touch with a lot of people on a daily basis and once people started noticing that she wasn't answering, it became it became real," Katie said.
Katie described it was like wildfire once the news of Madeline's disappearance got out.
Winona Police quickly called the Minnesota Bureau of Criminal Apprehension for more resources. Meanwhile, friends started forming search parties.
"It was crazy to see how many people really cared and were willing to 'here let me take a map and I'll drive' and it wasn't just searching for Maddie it was the fact that we were looking in dumpsters and drain ditches. It was random places. We got the city covered in one day with drones and people," close friend Holly Stamschror said.
After three days, Investigators declared Madeline as an endangered missing person and on April 5, the first press conference was called.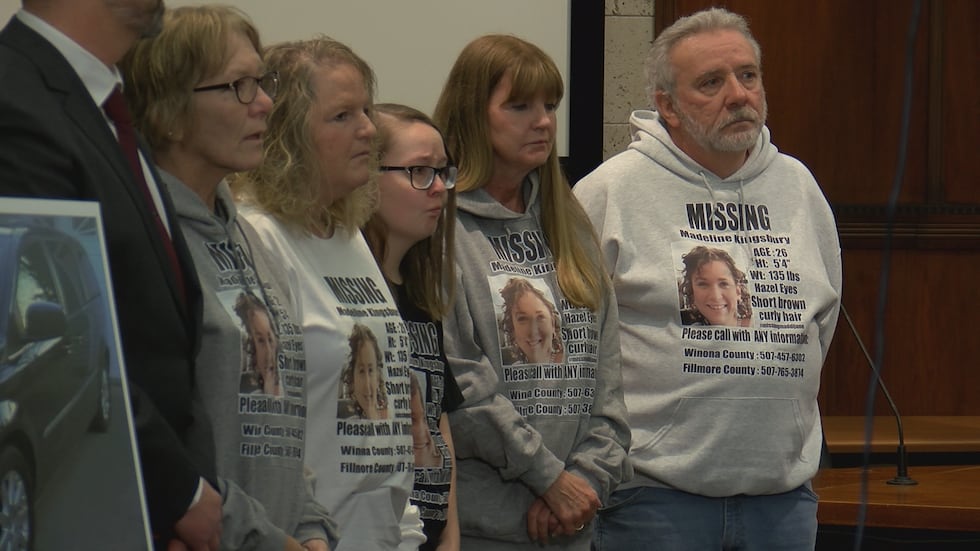 "Based on all of this we believe Maddie's disappearance is involuntary, suspicious and we are all concerned for her safety. Law enforcement began searching areas nearby Maddie's residence and along Highway 43 in both Winona and Filmore Counties. Our search efforts have been ongoing," police chief Tom Williams stated during the press conference.
Investigators asked the public for help. Those living along Highway 43 were asked to save all surveillance camera video. A dark blue Chrysler van, one just like Madeline's was spotted driving down Highway 43 during the morning hours of March 31. The community was also asked to search their properties for anything that looked out of place.
"We will remain loud about this and continue to advocate for Madeline. Anyway, shape or form. We are offering a $50,000 reward for any information leading to Madeline's whereabouts. Please help us find Madeline. The children need their mother. We need our daughter, our sister, our aunt and our best friend back," Megan announced during a press conference.
Katie stood behind the Kingsburys during the press conference in a t-shirt with Madeline's description on it.
"It haunts me that I got to go to sleep and hug and kiss my kids and when she dropped her kids off at daycare that was the last time that she got to hug and kiss her kids," Katie remembered.
Where is Madeline?
On April 7, Winona County Emergency Management organized a large-scale shirt. More than a thousand laced up their boots and headed out.
"We weren't present because we didn't want to be a distraction and we searched on our own but seeing aerial footage of people like walking in lines on farmland and people in bright orange vests looking throughout the woods. It was very surreal, and we can't thank people enough for doing that," Megan said.
Online fingers pointed in Adam's direction. For Theresa, the online harassment was difficult and scary.
"I definitely was not going to put myself in that position to be harmed so I didn't search with them," Theresa said.
Then on April 12, Adam broke his almost two-week silence releasing a statement through his attorney Zach Bauer.
"Adam has been consistent with law enforcement from the first time that he sat down with them that he didn't have anything to do with Maddie's disappearance these are the mother of his two children obviously. He wants her home safe, and he is trying his best through efforts with law enforcement as well as in the community to try to make that happen," Bauer said.
According to Adam and his family, BCA agents told them not to search with the public or attend any press conferences. Public information officer Bonney Bowman clarified that wasn't true.
According to Theresa, Adam and his family searched on their own, driving up and down the backroads of Mabel.
"You come to a point in your head where you don't know where to search because you become confused on like where did she go," Theresa said.
While everyone focused on finding Madeline, Adam found himself in the middle of a custody battle. With Madeline missing, their kids didn't have a legal guardian. They were put under the custody of Winona County and given to Madeline's father and stepmom.
According to a child-protection petition, when officers showed up to take the children, Adam and his family wouldn't cooperate. Adam started shouting expletives, refusing to give the kids up or gather their belongings. Ultimately, Winona County took custody of the young children.
"We were very concerned for the kids before they were taken from Adam, and I think that was like the bright shining moment when they came to us with the kids. It was such a relief," Megan said.
Week after week, groups of volunteers showed up to for Madeline.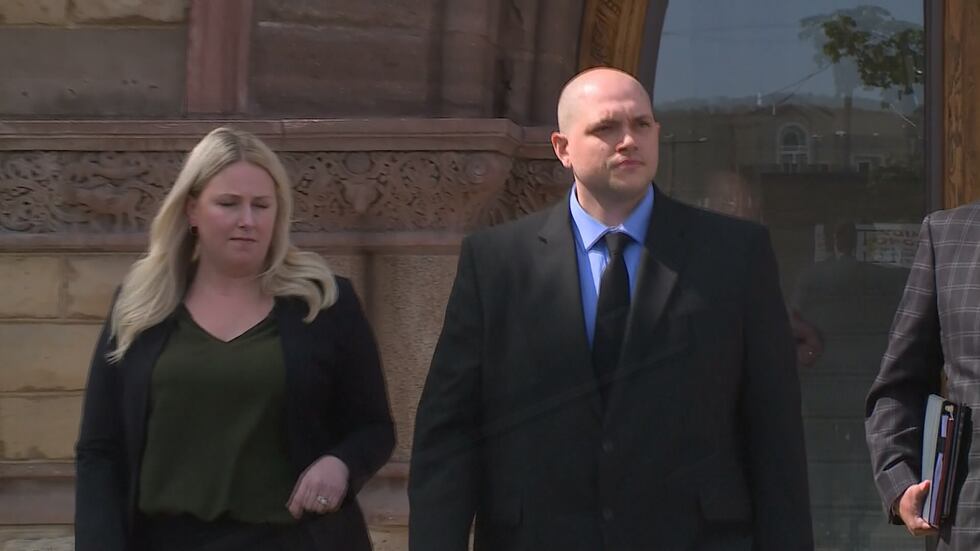 "It was morbid," Katie described.
"In the pit of my stomach, I knew I was looking for my best friend's body. In my head, I'm hoping she is hurt at least, somewhere and we will find her," Holly said.
The terrain of Minnesota's bluff country made the search especially difficult.
"It was scary, and it was exhausting and there was just so much open space down there," Megan said.
Call to Arms
One month after Madeline disappeared dropping her kids off at daycare her family hosted a vigil. Hundreds gathered and light up First Congregational Church in Winona.
"Take what you heard about Madeline tonight as a call to arms. When you leave here you should be thinking, not here, not in our town, not in our county, and not in our state. Someone knows something, someone saw something. Make this your battle cry. Where is Madeline? Where is she? Make it loud and don't stop until she is found," David Kingsbury vocalized to the hundreds gathered at the church.
Winona was dressed in blue as the community set out ribbons and blue lights to honor Madeline for her 27th birthday on June 1.
Despite this push, tips and information coming into investigators slowed. For the Kingsburys, frustration began to set in.
"It was just kind of sitting around. Don't know what to say. Don't want to look at each other. You don't really do anything," Megan said.
A Grim Discovery
Megan recounts feeling hopeless the morning of June 7.
"I was very emotional, very like how hasn't she been found, how is this still going on," Megan said.
Then her phone rang.
"I was sitting in the living room with my fiancé and my dad called and my mom was also on the phone, and we were waiting for him to dial my brother. Just a big group call. He didn't say about what yet but I kind of had a feeling. When everyone was on the line, he said that I think there was a BCA agent at his house. They said that they had found remains and that they hadn't done any testing yet, but they were 99% percent sure it was Maddie. They identified some of her tattoos and things. I fell to the floor. It was terrible," Megan recounted.
Theresa also had a hard time with the loss of Madeline.
"When you haven't said goodbye to somebody, and they are just vanished or taken or whatever word you want to use and then you find out that they have passed, and you haven't had the chance to see them or say goodbye or anything it's a very weird void inside that you can't explain," Theresa said.
Adam was arrested at his parents' house in Mabel for suspicion of murder. Theresa believes authorities were quick to arrest her brother.
"I don't know how to explain it. Sometimes you just, you know. There's just no way that he did it," Theresa explained.
In a matter of hours, Madeline's friends got the news Adam had been arrested.
"I called Maddie's mom and I'm like 'please don't tell me' And she's like 'I'm sorry, I'm really sorry sweetheart but they found her," Katie said.
"I get a call from my sorority sister; Mckayla and I don't hear anything on the other end for like three seconds and all of a sudden its sobbing and I remember standing bolt right up from my chair just knowing," Holly said.
As loved ones grappled with the grim discovery. A legal battle was only beginning.
Copyright 2023 KTTC. All rights reserved.