Mild sunshine today; Windy and warmer Thursday
High temps will be in the 60s through Thursday before colder air returns this weekend
Published: Nov. 15, 2023 at 8:13 AM CST
ROCHESTER, Minn. (KTTC) – The amazing spell of warm mid-November weather we've been enjoying all week continues today as high pressure from the west settles into the area. Expect mostly sunny skies throughout the day with high temperatures in the low 60s and a gentle breeze that will turn from the northwest to southeast during the afternoon hours.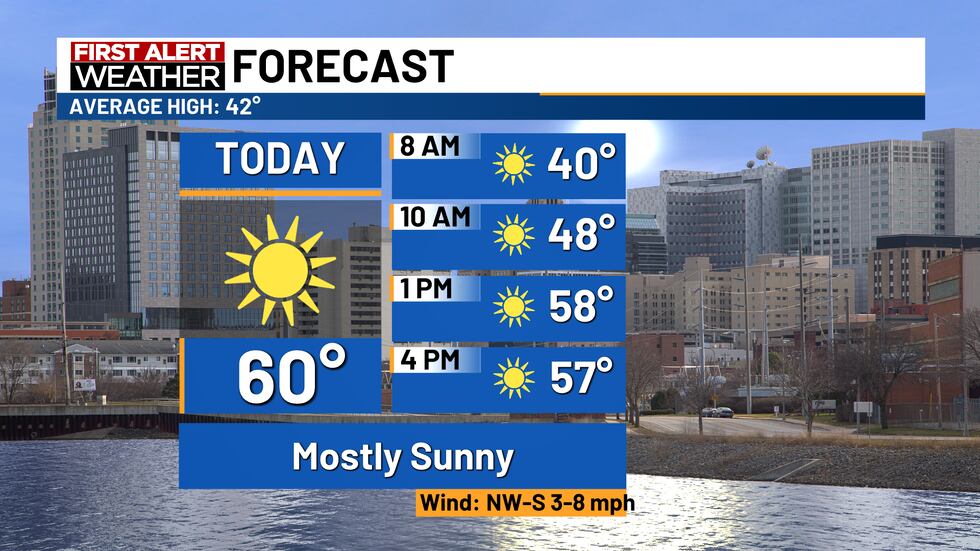 Temperatures will drop to the 40s this evening under clear skies. As warm air begins to rush into the area after midnight, those temperatures will begin to steadily rise, reaching the low 50s around sunrise on Thursday. South winds will pick up late in the night, gusting to 25 miles per hour.
South winds will be rather strong throughout the day on Thursday as warm air builds northward into the area ahead of a cold front. Expect mostly cloudy skies tomorrow with high temperatures in the mid-60s. Winds will be the strongest of the week, reaching 45 to 50 miles per hour at times in the late morning and afternoon. Winds will remain rather gusty until late Thursday as the cold front pushes through the Upper Mississippi Valley.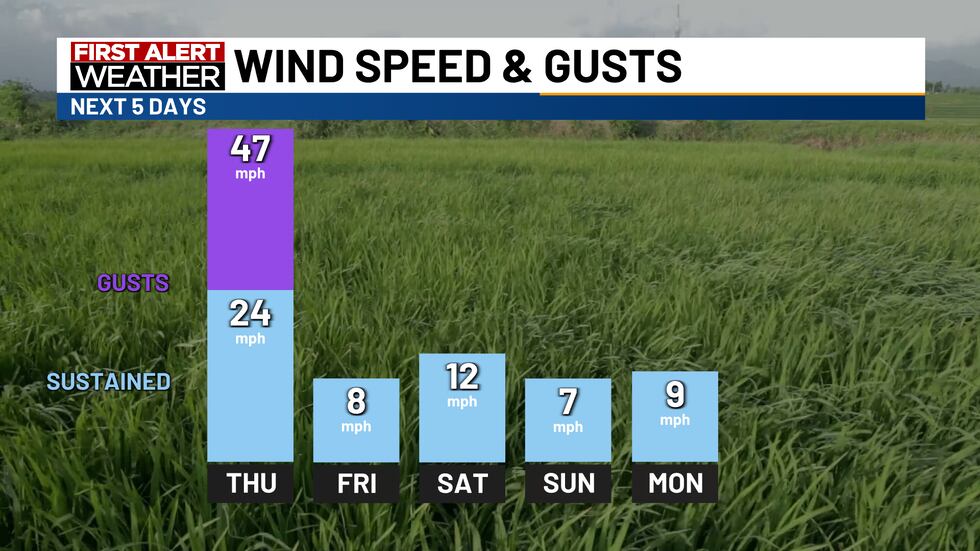 Temperatures will fall dramatically from the 40s Thursday evening to the upper 20s Friday morning. We'll have mostly sunny skies in the area throughout the day, but even so, temperatures will only warm a few degrees by Friday afternoon. High temperatures will be in the low 40s with wind chill values in the 20s and low 30s.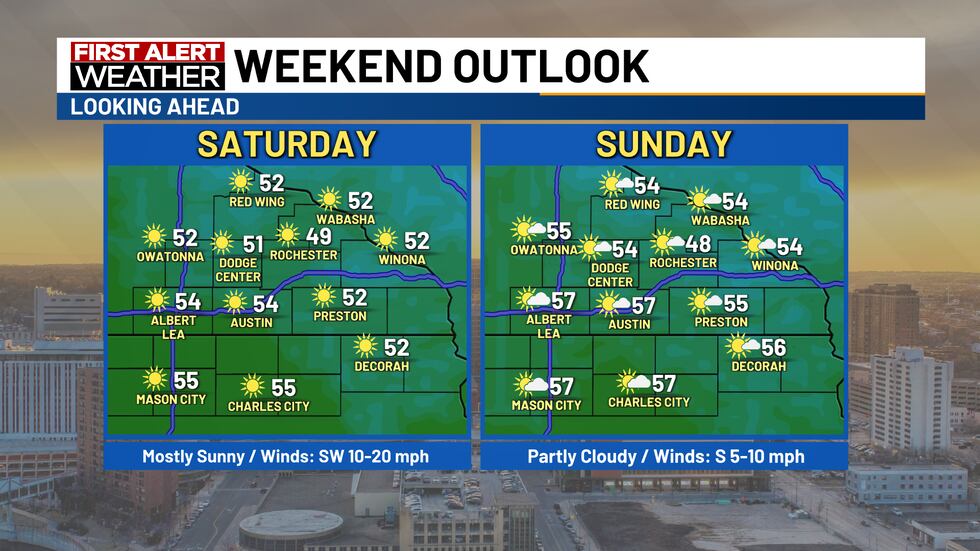 The weekend will be bright and tranquil with abundant sunshine in the region. High temperatures on both Saturday and Sunday will be in the upper 40s.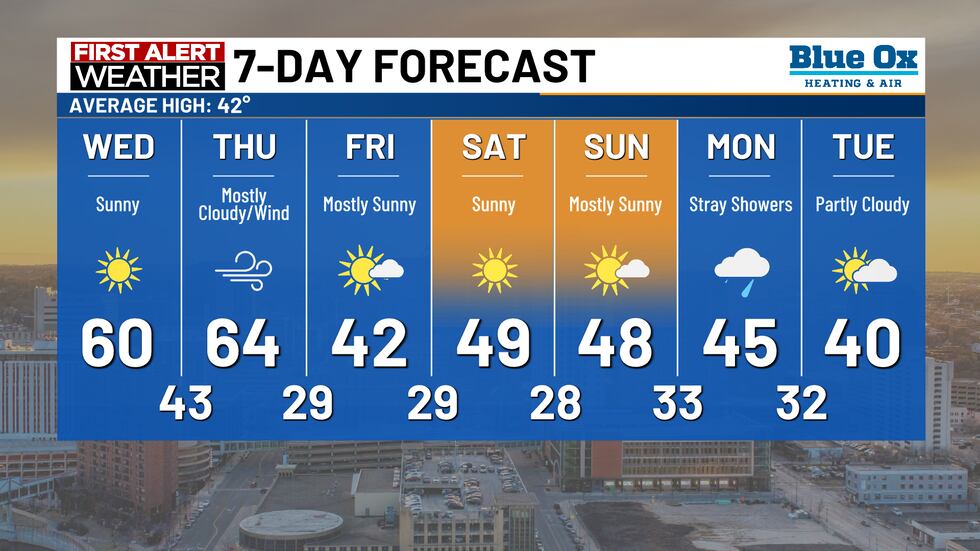 The lone rain chance in the next week will happen on Monday as a storm system grazes the area to the south. Expect a few stray rain showers in the late afternoon Monday until the early morning hours on Tuesday. After that, there will be at least partial sunshine each day during the upcoming week. High temperatures will gradually fall from the mid-40s on Monday to the 30s from Wednesday through Friday.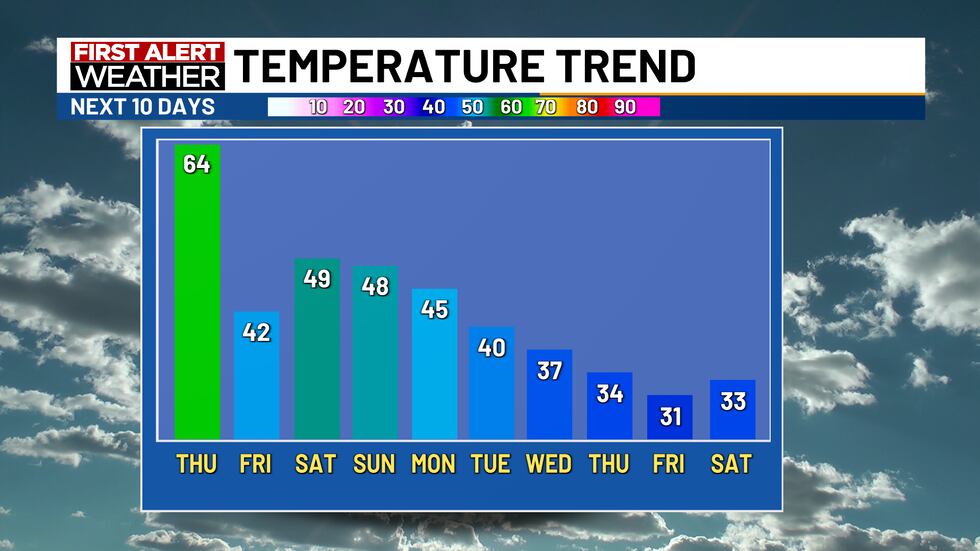 Copyright 2023 KTTC. All rights reserved.