FULL INTERVIEW: RPS Superintendent discusses failed referendum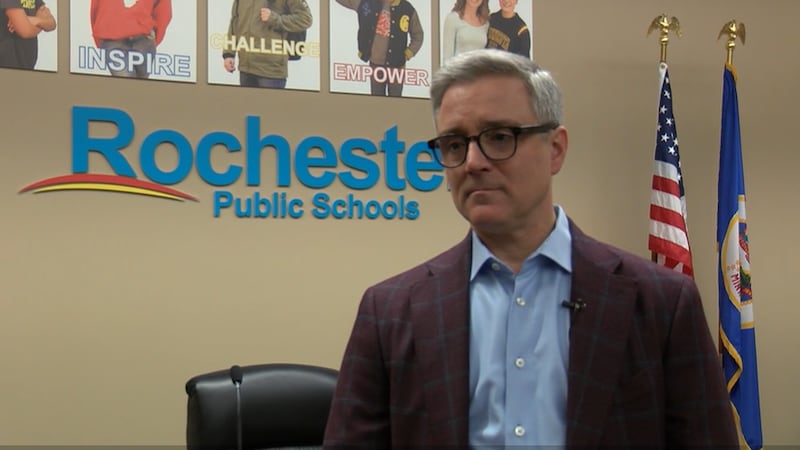 Published: Nov. 15, 2023 at 2:03 PM CST
ROCHESTER, Minn. (KTTC) – KTTC sat down with Rochester Public Schools (RPS) Superintendent Kent Pekel Wednesday to discuss the failed technology referendum.
Voters rejected a tax levy increase that would've raised property taxes to the tune of $10.15 million annually for 10 years. If approved, the money would've seen $7 million freed up from the general fund being used for technology, as well as an additional $3 million per year to maximize technology use and support the financial plan.
11,248 (50.72%) people voted no while 10,930 (49.28%) voted yes for the measure.
On Wednesday, Pekel said he is happy people came out and voted for, but last Tuesday was hard due to the referendum failing.
"It was heartbreakingly close," Pekel said. "So, it's important to say failed doesn't mean resoundingly rejected. But obviously it was a tough blow."
He acknowledged the language in the referendum was off-putting to some people. He also said it was complicated.
"Some things in life are just complicated," he said. "I got some anguished emails saying why didn't you put this into class size or mental health or something. The answer is we can't. It's against the law. But our plan was to take the $10.1 million and stop spending $7 million from our general fund on technology that we would've put into class size. That is a more complex message than vote this, we'll build a new building or vote for this, we'll launch a new program."
Pekel said moving forward, there will be more budget cuts. At this point, it's unclear where those will be. He also said there may be a new referendum in the future but for now, he's requesting a renewal of the existing operating tax levy. It expires in 2025.
"I am going to recommend we do not raise the operating levy. But the state has given school boards the one-time chance to renew that," he said. Which means the only other source of funding will be the capital projects levy, which is for equipment and materials. the reason for that is candidly, if we put an operating levy on the ballot and it didn't pass, we would be cutting $17 million in 2025, after cutting $10 million in 2024, after cutting $14 million in 2023, after cutting $7 million in 2022. We simply cannot take that chance of another $17 million being gone."
You can watch the full interview below where Pekel discussed his reaction to the vote and what's next for the district and funding.
Copyright 2023 KTTC. All rights reserved.