Vikings beat the Saints for their 5th straight win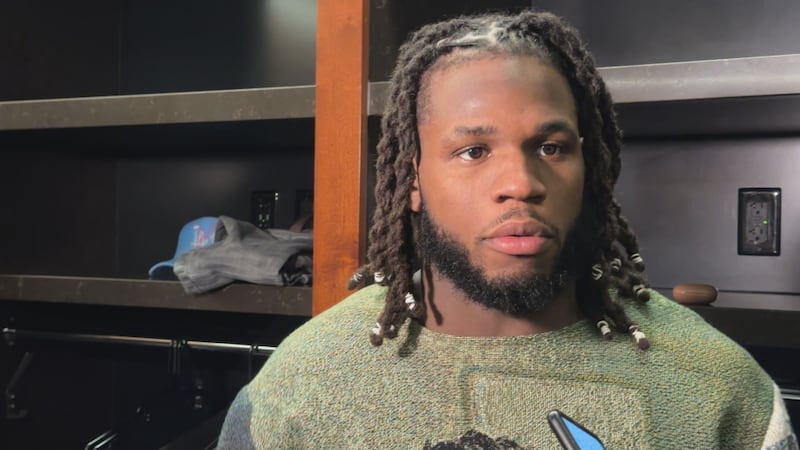 Published: Nov. 12, 2023 at 10:46 PM CST
MINNEAPOLIS, Minn. (KEYC) - The Minnesota Vikings defeated the New Orleans Saints 27-19 Sunday afternoon. Vikings quarterback Josh Dobbs finished the game with 312 yards and two touchdowns.
It was also a big day for Vikings tight end T.J. Hockenson. In the first half alone he had 10+ receptions, 128 receiving yards and a touchdown. Hockenson became the first tight end in NFL history to achieve all of that in the first half of a game.
"I mean I think a lot of it is the people around me I just want to play for this team you know I love these guys in this locker room love these coaches love the organization and you know just ultimately just wanting to be out there with these guys" said Hockenson.
The Vikings defense only gave up a field goal heading into the half and defensive back Danielle Hunter had his 11th sack of the season.
"I mean it's a combination of just being put in the right situation you know guys working together the DB's, the back end, the linebackers and that defensive line we are just all rushing together it just pans out it could be anyone you know" said Hunter.
The Saints made it a one score game 27-11 Vikings with 11:40 remaining in the game, but the Vikings held on to get their fifth straight win.
"They got a lot of good skilled players that came into the game we knew we had our hands full. Guys stepped up today. D-line did a hell of a job getting pressure on the quarterback and I think that helped us out on the back end a lot" said Vikings safety Josh Metellus.
The Vikings play next Sunday, November 19th at 7:20 p.m. against the Denver Broncos in Denver.
Click here to download the KEYC News Now app or our KEYC First Alert weather app.
Copyright 2023 KEYC. All rights reserved.