RCTC Football enters postseason as 1 seed, 16 players earn MCAC honors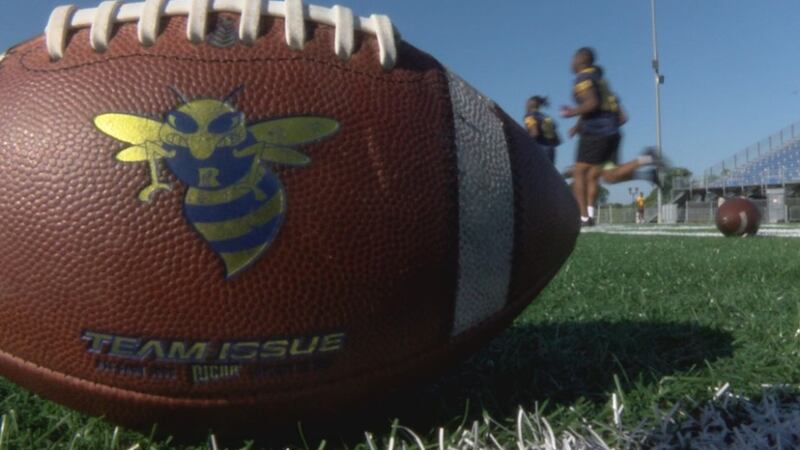 Published: Nov. 1, 2023 at 1:57 PM CDT
ROCHESTER, Minn. (KTTC) – The Rochester Community and Technical College (RCTC) Yellowjacket Football team is entering the postseason as the number 1 seed after winning the 2023 Minnesota College Athletic Conference (MCAC) championship.
The team finished the season with a 7-2 overall record (5-1 conference record) and is ranked number 2 nationally.
RCTC also had 16 players earning All-MCAC honors.
MCAC first team honors were awarded to:
QB - Devin Watson (West Jordan, Utah)

RB - Micha Hobin (Park Center, MN)

WR - Terrence Isaac Jr (Desoto, TX)

DL - Seth Thomas (Mattawan, MI)

LB - Martell Williams (Proviso, IL)

LB - Keshawn Johnson (Cottondale, AL)

K/R - Rodrigo Castaneda (Richfield, MN)
MCAC second team honors were awarded to:
WR - Jairrus Nicholson (Red Oak, TX)

OL - Caleb Williams (St. Louis, MO)

DL - Daniel Graham (Washington, D.C.)

DL - Mario Mendoza (Appleton, WI)

SS - Jahquii Roberts (Doughsville, GA)
Honorable Mentions include:
WR - Brady Walsh (St. Louis Park, MN)

FS - Ira Tullous (St. Johns, AZ)
Offensive Lineman Gavin Layton (Andover, MN) was one of seven players honored as part of the MCAC All-Offensive Line team.
RCTC Head Football Coach Terrence Isaac was named one of two MCAC Coaches of the Year in just his second season at the helm.
The next game for the Yellowjackets is Sunday, November 5 at 1 p.m. at St. Cloud State University.
"We are extremely proud of the RCTC football team, Coach Isaac, and the 16 young men selected as All-MCAC," said RCTC Athletic Director Mike Lester. "Not only have they had fantastic seasons on the field but have represented themselves and the College extremely well in the Rochester community and in the classroom."
Copyright 2023 KTTC. All rights reserved.