'Drivers Licenses for All' rolls out across Minnesota Monday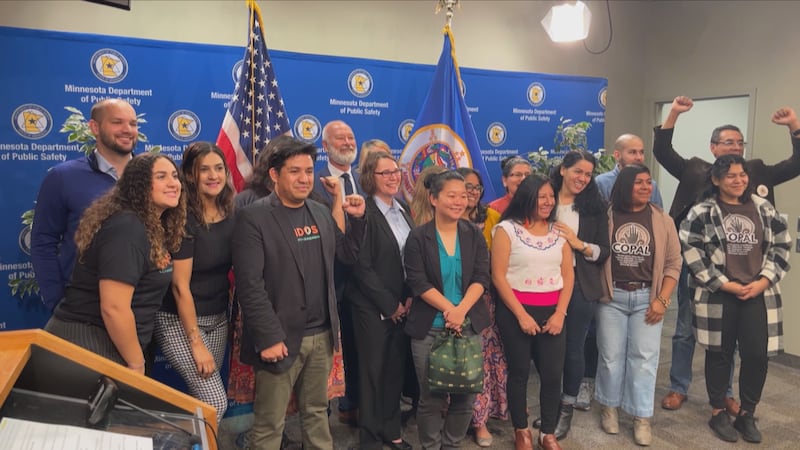 Published: Sep. 28, 2023 at 6:18 PM CDT
ST. PAUL, Minn. (GRAY) – Undocumented Minnesotans could legally be on the road in the next few months for the first time. Starting Monday, the state will officially implement Drivers Licenses for All, a program that allows licenses regardless of immigration status. New drivers will still need to complete the necessary requirements to obtain a license, including a permit period, but the law opens the road to 81,000 new Minnesotans.
"We implement 'Drivers License for All' starting next week, October 1, removing documentation barriers to legally obtaining a standard driver's license permit or an ID card," said Department of Public Safety Commissioner Bob Jacobson.
DPS and the Department of Vehicle Services say there's been a lot of work to ensure a smooth implementation come October. Much of that has revolved around making the test more accessible.
SEE: MN DVS gearing up for "Drivers Licenses for All"
"We have increased the amount of languages that we are offering for our knowledge test, and that should go live at the end of this week," said Jacquelyn Eiffler, DVS Program Manager.
Despite a possible influx of applicants, the state says they're prepared.
"Monday is really going to be very much business as usual. We have all of our appointments that are filled they open up as people will cancel them," Eiffler said.
The law's rollout has been a DPS priority for months, but no one has anticipated its arrival more than Minnesota's immigrants.
Several advocacy groups spoke at a DPS event on Thursday.
"While I was in high school and in college, I worried about not being able to drive to school, or doctor's appointments, get groceries or even visit my family," said Regina Olono-Vidales with Unidos Minnesota.
Under the new law, DVS will not report any immigration information to ICE or other immigration services.
"This week that fear and anxiety is finally put to rest. Entire families are being lifted up and transformed by this policy," said Olono-Vidales.
Copyright 2023 KTTC. All rights reserved.