As UAW strike continues, MN AFL-CIO shows support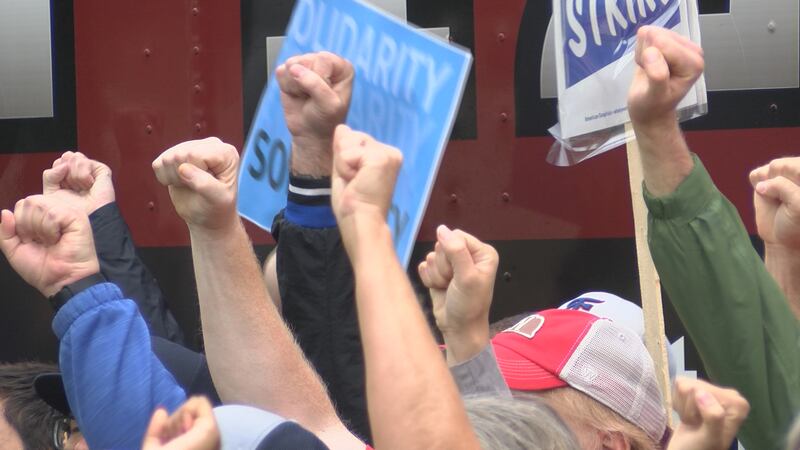 Published: Sep. 26, 2023 at 5:45 PM CDT
PLYMOUTH, Minn. (GRAY) – As United Auto Workers enter another week of striking, new facilities around the country are joining in. Dozens of manufacturing plants, including a Stellantis plant in Plymouth, joined in last Friday.
Stellantis is one of the "big three" auto manufacturers involved in the contract dispute with UAW leaders, the others being General Motors and Ford.
Tuesday, the Minnesota AFL-CIO visited the picket to show support.
"We are standing together with our UAW siblings, UAW members are fighting for all of us," said MN AFL-CIO President Bernie Burnham.
Several representatives from unions like the Minnesota Nurses Association, United Steelworkers, and SAG-AFTRA showed up to stand alongside UAW members.
Since the picket line formed on Friday, union members have been striking around the clock in Plymouth. Members successfully turned around at least one truck, which came all the way from Michigan, on Tuesday morning.
"This big rig came by and they tried to come in and... we said you can't drop it off here we're on strike," said a union member.
As of Friday, The Associated Press reported that the union is seeking a 36 percent wage increase over the next 4 years. The same report suggests the auto companies have offered 20 percent.
13 percent of the union's members are striking.
At the Plymouth location, several members suggested they're willing and ready to strike until they get the contracts they believe are fair.
"If [waiting months] is what it takes to get a fair contract and leave this union better than when we found it, I think that we're in solidarity in believing that's what we will do," said Alex Tivis, a second-generation union member and worker at the Plymouth plant.
Tivis said he remembers his father negotiating more than a decade ago, after the 2008 financial crisis.
"That contract negotiation affected my life and my family's life forever and I'm proud to know that I'm out supporting today just like my dad did for me and for my daughter," said Tivis.
He said those negotiations left a lasting impression on him.
"I felt the effects not only as a young man but now I'm feeling those effects as a nine-year employee of this company myself," he said.
Plymouth UAW members weren't alone in their picket, as President Biden visited a picket line in Michigan Tuesday to support the union.
Copyright 2023 KTTC. All rights reserved.