Lake City music community hosts concert for music teacher facing three diseases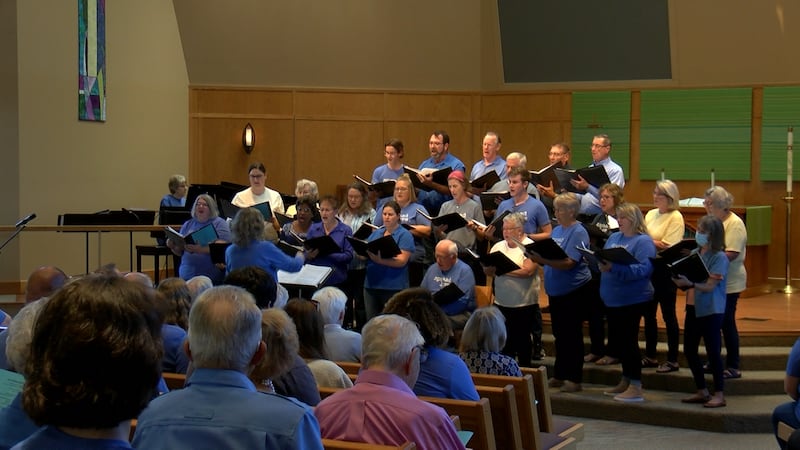 Published: Sep. 24, 2023 at 6:34 PM CDT
LAKE CITY, Minn. (KTTC) – The Lake City music community hosted a musical benefit concert at First Lutheran Church for music teacher Carey Kopp on Sunday afternoon.
Carey Kopp is is a mother of two children and has been teaching music for more than 24 years in Lake City. She was diagnosed with lung cancer, interstitial lung disease, and an autoimmune disorder in January 2023.
For many Lake City music students, Kopp was more than a teacher.
"Carey's gotta be one of my favorite teachers. I am not gonna cry. I've been a student of hers for the past 5 years. She's one of the best teachers I've ever had. Incredibly funny and sarcastic... She's truly one of the best people. She's touched the heart of so so many kids."
"She can have the roughest day ever but she can always stay upbeat. She can always stay on task, and be like the best version of herself."
"She's impacted everyone and it's great to see everyone giving back to her now coming together in time of need like this."
Kopp received strong support from the community and the musical benefit concert had more than a hundred people in attendance. Alkire says she is making a special gift for her teacher.
"I kept a little quote book of just random things that happened that she said and other people said in class. And I have been planning on writing all of that down into a book and giving it to her when I graduate."
All proceeds and donations to First Lutheran Church goes to Carey Kopp. To contribute, people can reach out to First Lutheran Church through its website.
Copyright 2023 KTTC. All rights reserved.