UW-La Crosse begins fall semester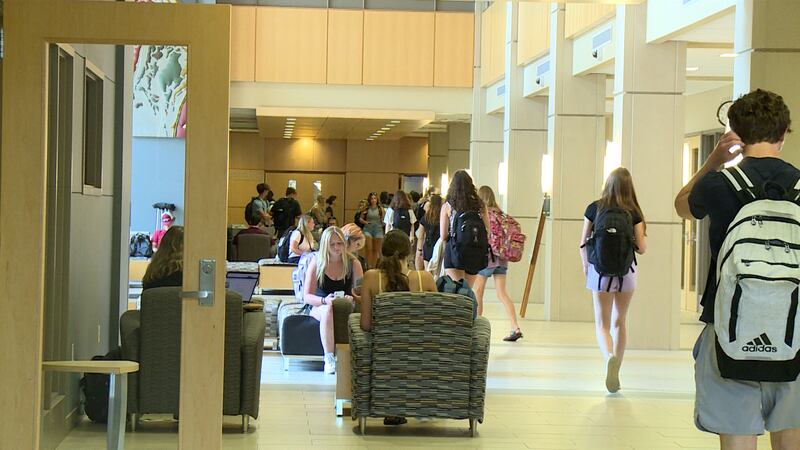 Published: Sep. 5, 2023 at 6:20 PM CDT
LA CROSSE, Wis. (WEAU) - It's clear that the fall semester is underway on the UW-La Crosse campus.
Students take their learning tools and walk from class to class.
Excitement is in the air as thousands of students begin another semester of college. Chancellor Joe Gow is especially excited for the new school year.
"It's awesome to see everybody back. And summer gets pretty quiet. And so it's impressive. And I know there's some parking issues and things like that, but the energy is amazing. It's really nice," says Gow.
This will be Gow's last year as the university's chancellor.
He announced last week that he will transition into a faculty role in 2024.
Gow is making it a priority to make the university stronger and better for students.
"When enrollment is solid like it is this year, that's always a very good sign. And so we're going to keep, of course, recruiting and retaining and graduating students. That's job number one," says Gow. "But I'm sure we'll grow some new programs along the way. And also, last year we had an amazing year in athletics and we expect more great things this year, too."
It's not only the staff that's excited.
"It feels pretty good. I had a good summer, but I'm ready to get back into the routine and things and just really keep going and learning," says sophomore Lydia Peterson.
Peterson also says that the university does a great job in welcoming students back with programs and events after a long summer.
"It's really nice to have those, even though I'm a sophomore, but it's just nice to know that they're still there. And then it's everywhere. People are always around, with their booths and stuff. And then I know I just talked with an advisor, so it's nice to know that they're right there if I need to drop class or out of class and things like that," says Peterson.
UW-La Crosse is poised for another strong first-year class. First-year enrollment for this semester is at 2,304, which is just four shy of last year's record setting class. Also the university's first and second year retention rate of 87.4% is the highest it's been since 2004.
So as you can see, there is plenty of excitement from the students to the staff about this upcoming 2023-2024 school year.
Copyright 2023 WEAU. All rights reserved.