Hot, breezy conditions set up the potential for record breaking heat today
Next system moves in Tuesday evening with cooler temps, rain
Published: Sep. 3, 2023 at 8:36 AM CDT
ROCHESTER, Minn. (KTTC) – The first day of the holiday weekend did not disappoint in regard to the heat. The Rochester International Airport tied the record for the highest recorded temperature in history on September 2nd at 94 degrees. The record was originally set in 1929 and today is shaping up to be quite similar to yesterday with the potential to tie or even break the record high. Today's high was set in 1937, for Rochester, at 94 degrees.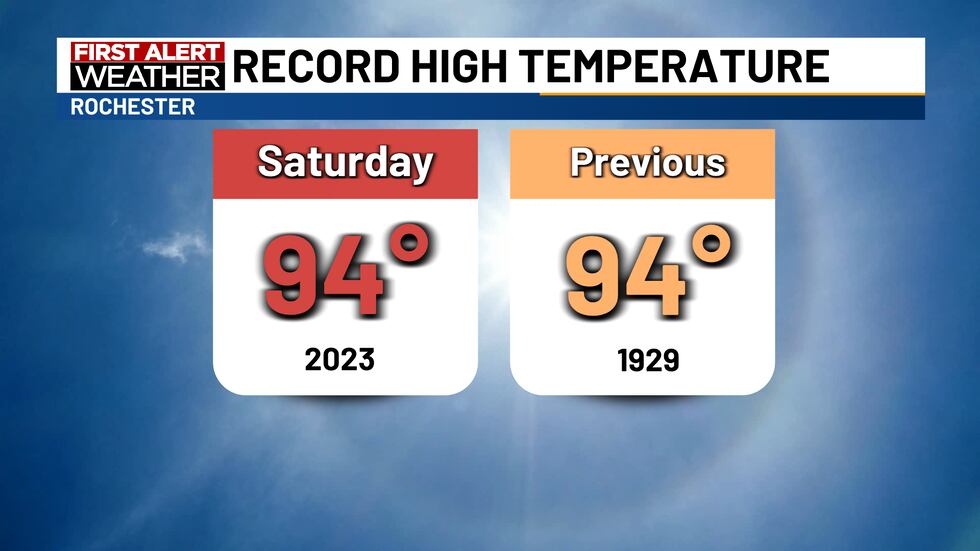 Now, this morning clear skies were present across much of Olmsted County with warm temperatures in the mid to upper-60s. Along the Mississippi River cities in Goodhue, Wabasha, and Winona counties saw warmer temperatures in the low 70s. Today conditions are, again, expected to be breezy and hot with temperatures peaking into the mid to upper 90s for many across SE MN and northern Iowa. Winds will continue to be out of the south through Labor Day with windspeeds around 15-20 mph and gusts near 25-30 mph. Sunshine and clear skies are forecasted to be here throughout the region until clouds start to roll in on Monday night.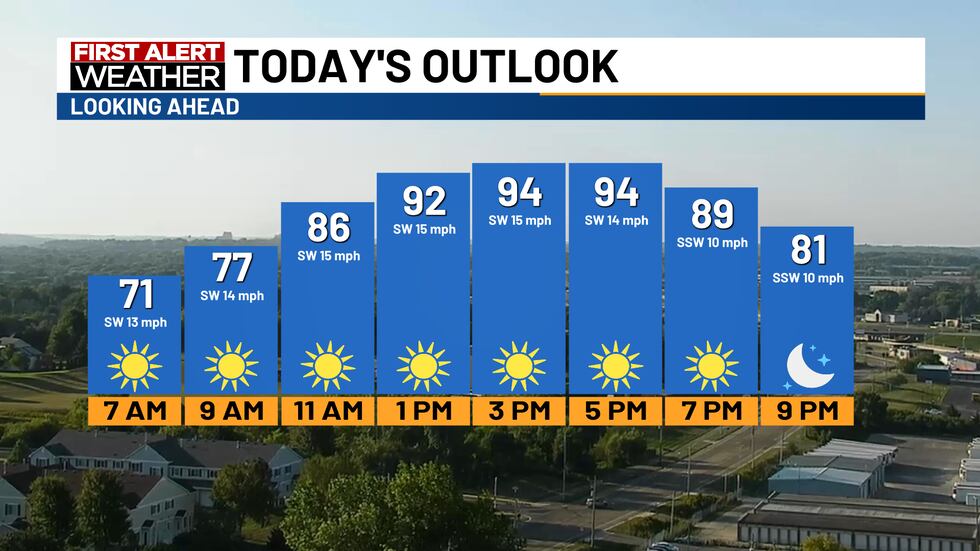 The NWS has issued a Heat Advisory for northern counties that border the Mississippi River for heat indices, in addition to the hot temperatures, that range into the mid to upper 90s. The advisory is set to expire for Goodhue, Wabasha, and Winona counties on Tuesday evening at 5. It is possible that the advisory is in place for these counties and not our inland counties because water has a higher heat capacity than land does. This means that land will heat up and cool faster as opposed to the Mississippi River. The water in the river will hold heat longer and release it more slowly meaning those counties will experience the potential for warmer temperatures or heat indices too.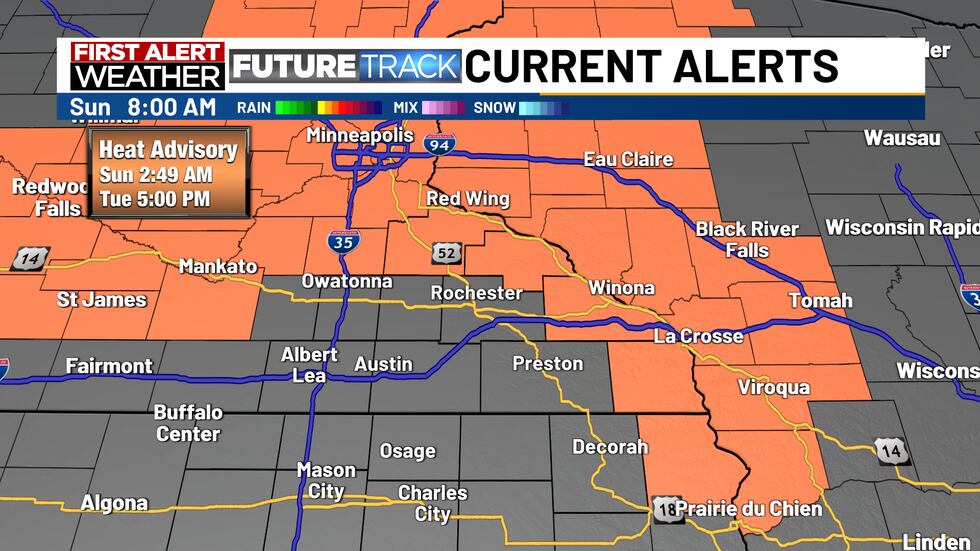 The next system will be a strong cold front that will move into our region early Tuesday evening around 7 according to the latest model guidance. You can expect temperatures to take a dive down from the low 90s on Tuesday afternoon and into the mid to upper 70s for the latter half of this week. This would be closer to more fall-like temperatures in Rochester and SE MN, for the first full week of September. Right now isolated to stray showers are expected on Tuesday evening, with the possibility of a storm, and will last into the early morning hours of Wednesday.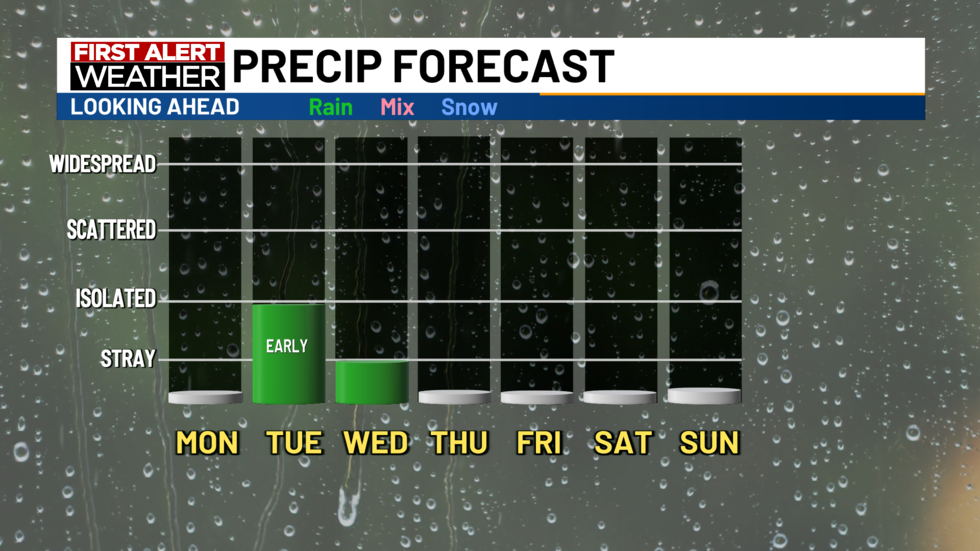 The rest of the week looks more seasonal for our temperatures with more sunshine after Wednesday. For now, enjoy the hot weather for the rest of your Labor Day weekend, and stay safe!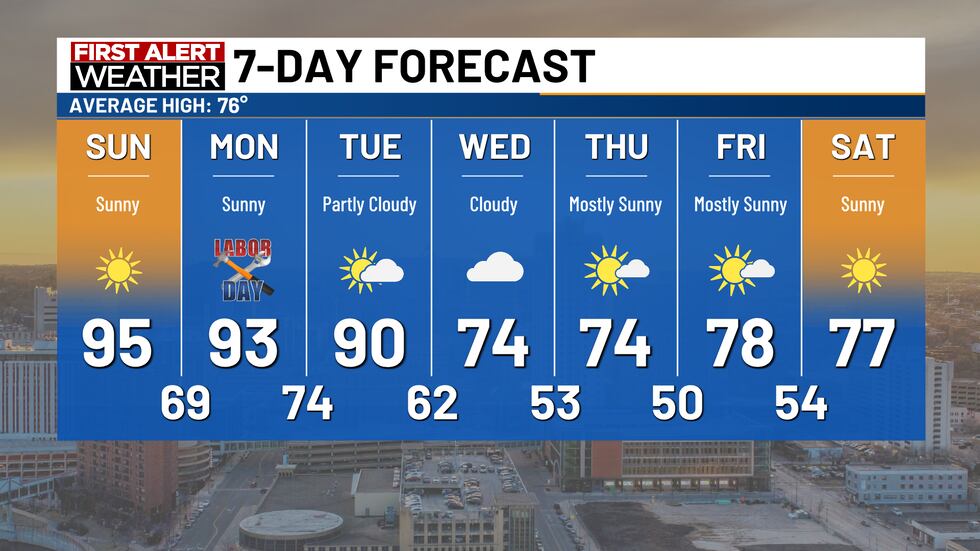 Copyright 2023 KTTC. All rights reserved.