Move in week begins at UW La Crosse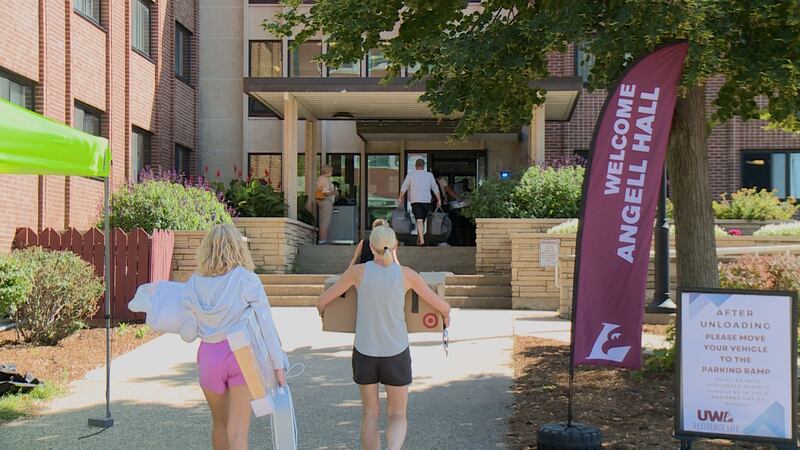 Published: Aug. 30, 2023 at 4:45 PM CDT
LA CROSSE, Wis. (WEAU) - Chancellor Gow's tenure may be coming to an end in La Crosse, but for thousands of students, their UW La Crosse tenure begins this week.
It's the beginning of move in days for the 2023-2024 school year. Residence hall associate director, Lisa Weston explains the schedule for the next few days.
"Today is the first of about five moving days. And so we welcome just over 3,000 students to campus. We've got a healthy number of them coming today, enjoying the nice weather before it gets too warm later this week," says Weston.
Weston also enjoys seeing the students back at the university.
"We love move in days around here. It's a great kick off to the fall as we welcome students back. Certainly, there's a mix of emotions, excitement, some anxiousness, of course some tears as families say their goodbyes. But it is a fun day for us, and we look forward to welcoming students back all fall," says Weston.
Weston also says that the residence hall's staff have been a big help in getting ready for this week.
"Our staff has been preparing for months for moving day, just the logistics of it. But we've also got really fabulous staff like residents, hall directors who are here to really welcome students to campus, help them acclimate to this new living environment, help welcome them to a home away from home," says Weston.
It's an exciting time for the parents as well. Chad Amundson is helping his daughter and her roommate move in.
it's an exciting time for them. They're super excited coming down. She had been planning the whole dorm room, how we're going to situate everything. I have a feeling we're going to be bringing back totes and totes of goodies that won't fit," says Amundson. "But that's all I'm here for is muscle today, to move stuff in and out. The staff was super friendly and helpful and pointing this in the right direction. So, everything so far has been pretty seamless.
The first day was busy, but the university knows that they have more students on the way. The university expects about 500 to 800 students to show up each move in day. Move in week will continue through Monday, September 4.
Copyright 2023 WEAU. All rights reserved.