Hearings in Lily Peters case underway in Chippewa Co.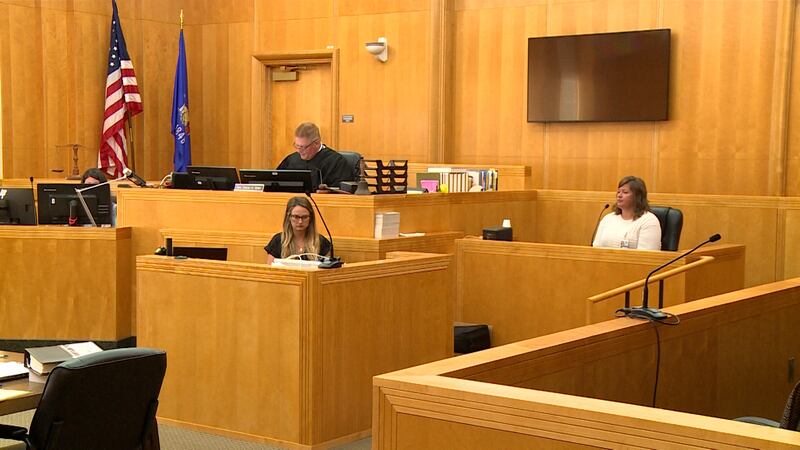 Published: Aug. 6, 2023 at 8:52 PM CDT
|
Updated: Aug. 7, 2023 at 7:10 PM CDT
CHIPPEWA FALLS, Wis. (WEAU) - Hearings are underway Monday in Chippewa County Court for the homicide case of 10-year-old Lily Peters.
A judge is expected to decide whether the case against the 15-year-old boy charged in her death will be moved to juvenile court.
The defense started the hearings on Monday, questioning four witnesses.
Lily Peters was reported missing the night of April 24th, 2022. The next morning her body was discovered in the woods close to her home. The defendant, who's only been identified as C. P.-B. in court records, is charged as an adult with first-degree intentional homicide and two counts of sexual assault. He's being held in the Northwest Regional Juvenile Detention Center in Eau Claire on a $1 million cash bond.
On Monday, the defense opened with testimony from four specialists with the Department of Corrections, attempting to demonstrate that the case should be moved to juvenile court. Each witness laid out how treatment and rehabilitation would look if the defendant were transferred out of adult court and convicted as a minor.
Michael Cohen, the suspect's defense attorney, said the defense expects to call three more witnesses on Tuesday with plans to rest its case on Wednesday.
Last month, Judge Steven Gibbs approved a motion to seal autopsy photos and video related to the investigation. Monday, Chippewa County District Attorney Wade Newell tried to submit photos into the hearing, saying they showed the severity of the case. Cohen argued the photos were not relevant or necessary to determine whether the case goes to juvenile court.
"I think the photographs show the vicious nature of the incident itself," Newell said.
Cohen argued the photos were not relevant or necessary to determine whether the case goes to juvenile court.
"Your consideration is not under the seriousness or whether it's serious, but whether returning the matter to juvenile court would depreciate that seriousness," Cohen said."
The court hearings are scheduled through Friday, but the move may be decided on before then.
You can watch it live here. We will also bring you complete coverage in all our newscasts.
Copyright 2023 WEAU. All rights reserved.