'Summer of Smoke': MN could see occasional poor air quality throughout summer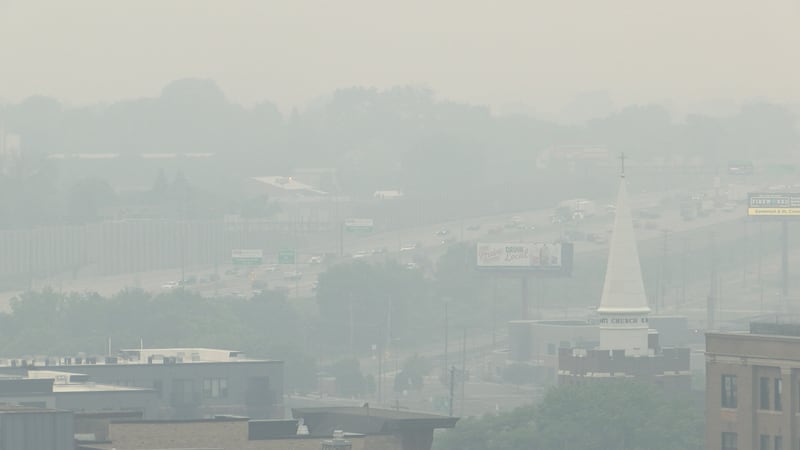 Published: Jun. 15, 2023 at 4:14 PM CDT
ST. PAUL, Minn. (GRAY) -- Air quality across Minnesota plummeted Wednesday as several regions around the state recorded record-breaking Air Quality Index (AQI) levels. One of those areas was the Twin Cities Metro.
"Yesterday, the average daily measurement across the Twin Cities was 175 on the AQI scale, which is in the red or 'unhealthy for everyone' category," said David Brown, an Air Quality Meteorologist with the Minnesota Pollution Control Agency (MPCA).
The hazy skies were caused by wildfires hundreds of miles north in Canada, as smoke moved south via weather patterns.
"There are a lot of wildfires that are currently burning across Canada in pretty much every province," Brown said, "some of that smoke was elevated, mixed down into the Twin Cities [Wednesday] afternoon. That is why we saw numbers climb so high so quickly yesterday."
Brown says wildfires are nothing new for Canada, especially in the more heavily wooded areas, but it's early on to be experiencing fires this badly.
"Their official wildfire season doesn't even start until July, and they have already gotten close to their record as far as the amount of land that's been burned already this year," he said, "with the warmer temperatures still to come in July and August and the drought continuing, we expect the fires to continue to grow."
That leaves the air quality outlook for much of the summer in grim shape.
"I don't want to be too doom-and-gloom, but it doesn't look great. The Canadian wildfire situation is pretty bad," Brown said.
Continued fires mean that in the right weather conditions, a day much like Wednesday could happen again several times this summer.
"We'll likely see new fires, and the fires that are going now are gonna continue to grow. And then our drought across the Midwest is also getting worse. And so the fire weather outlook is getting worse for parts of the Midwest like Northern Minnesota, Northern Wisconsin, and Michigan." said Brown.
People with sensitivity to poor AQI should keep an eye on the weather and pay attention to advisories when they go out.
Brown says to limit physical exertion as well.
"We would advise people to limit their time outdoors and limit the amount of exertion that they do and the amount of exercise that that they do," he said. "And then once things get up into the red or even purple category, then everyone really needs to be careful and limit the time outdoors."
For the latest up-to-date air quality conditions head to the MPCA Website.
Copyright 2023 KTTC. All rights reserved.