Duluth curling pair capture world championship title in South Korea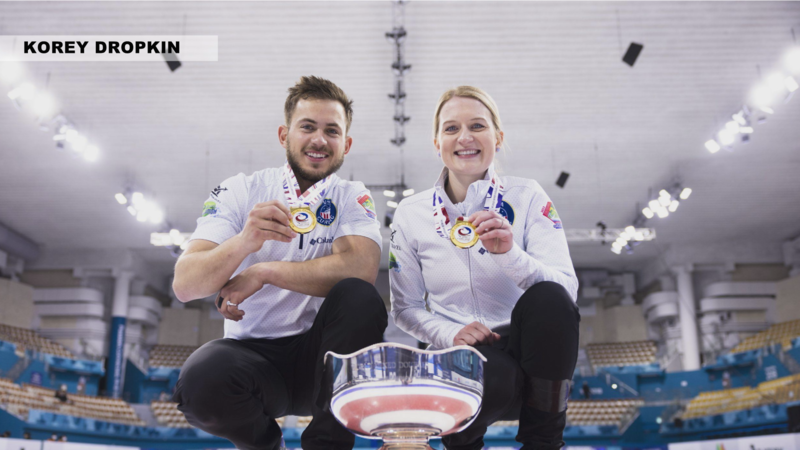 Published: May. 11, 2023 at 7:25 AM CDT
DULUTH, MN. (Northern News Now) - Cory Thiesse and Korey Dropkin have practiced for years in the Northland to grab the top spot at the World Curling Championships.
The team was able to beat out top teams like Japan and Canada for the title on April 29 in Gangneug, South Korea.
It's the first time a pair from the United States won the title in 20 years.
"Still pretty incredible, I don't think it's like completely sunk in like what we just did," Cory Thiesse, said.
Both her and Dropkin said winning a gold medal is something they've worked a long time for.
"Since we were, you know, young kids just starting the sport," Korey Dropkin, said.
They haven't competed alongside each other for a very long time, just individually.
"We came together about a year ago and we both have a lot of experience," Dropkin said.
Luckily for the team, they both live in Duluth.
Something they said is pretty rare.
"Korey and I are lucky that we both live here in Duluth," Thiesse said. "So we're able to practice together a lot which is really helpful for us."
Practice is important in a sport like curling, according to the team.
One of the biggest hurdles curlers face is making sure they're focused while playing.
"On our national team, we have a sports psychologist that we work with and I think she's helped us a lot with like the mental side of it," Thiesse said. "And just making sure that you know, what brings out your best out on the curling ice and how to bring out the best of your teammates.
The pair won the gold medal match against Japan by a score of 8-2.
In pool play, Dropkin and Thiesse lost to Japan, making the rematch exciting.
"We just we sort of just had that feeling that we were capable of making anything and we were just moving and grooving I guess," Dropkin said.
The competition at the World Curling Championships is stiff.
"There's so many darn good teams there. I mean, we could have lost several games if we weren't sharp," Dropkin said.
Both Dropkin and Thiesse practice at the Duluth Curling Club in the DECC.
"I've grown up in Duluth and grew up at the curling club. So like, these are people that have cheered me on like all throughout my curling career," Thiesse said.
That bond with the community, their teammates and their sport is what helped them make a golden run.
"All the support and the great friendships that we've made over the years, it's a great sport." Dropkin said.
Click here to download the Northern News Now app or our Northern News Now First Alert weather app.
Copyright 2023 Northern News Now. All rights reserved.