UPDATE: Fallen St. Croix County Sheriff's Deputy named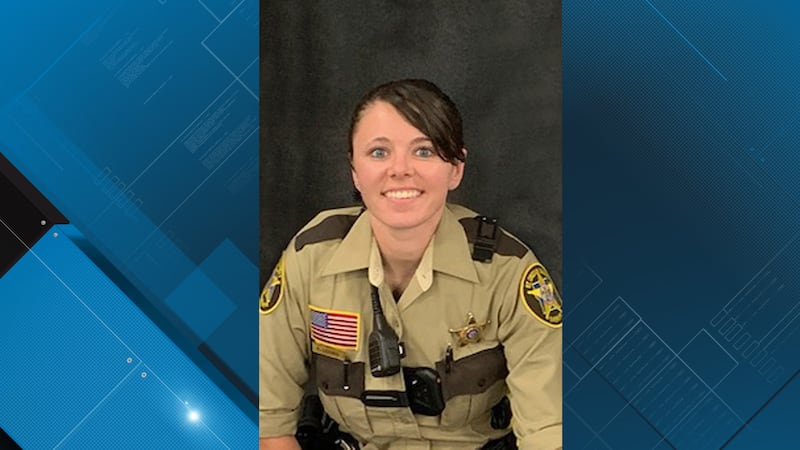 Published: May. 6, 2023 at 9:46 PM CDT
|
Updated: May. 7, 2023 at 4:29 PM CDT
ST. CROIX COUNTY, Wis. (WEAU) - A St. Croix County Sheriff's deputy was killed in the line of duty Saturday evening.
The St. Croix County Sheriff's Office is reporting 29-year-old Kaitie Leising was the deputy that died on Saturday.
St. Croix County Sheriff Scott Knudson said Deputy Leising served with the St. Croix County Sheriff's Office since 2022. Sheriff Knusdon said funeral arrangements with Law Enforcement Honors are pending and no other information is available at this time.
The Wisconsin Department of Justice reports around 6:15 p.m. Deputy Leising took a call of a possible drunk driver in the ditch near Glenwood City. After Deputy Leising arrived, she asked 34-year-old Jeremiah D. Johnson to complete a field sobriety test. The DOJ reports Johnson was evasive and eventually drew a handgun and shot her. After being struck, Deputing Leising fired her weapon three times, but none of the rounds hit Johnson before he fled into the nearby woods.
Leising was brought to a local hospital by emergency responders where she died.
Johnson was found an hour later by law enforcement who report they saw Johnson, heard a gunshot and witnessed him collapse to the ground. The DOJ reports no law enforcement fired weapons while searching for Johnson. A handgun was found at the scene where Johnson was located.
According to information from the Wisconsin Department of Justice, there is no threat to the community.
The Department of Criminal Investigation (DCI) is leading the investigation with help from multiple other agencies.
DCI is continuing to review evidence and determine the facts of this incident and will turn over investigative reports to the St. Croix County District Attorney when the investigation is finished.
Find the latest press release here.
St. Croix County Dispatch initially confirmed to WEAU that the incident near Hwy 128 and County G near Glenwood City in St. Croix County was a shooting that involved an officer.
State Representative Jodi Emerson released the following statement on Facebook: "My heart goes out the the St. Croix County Sheriff's Office and all those who knew and loved the fallen officer."
The Glenwood City Police Department also posted on Facebook: "Our thoughts, prayers, and hearts are with the St Croix County Sheriff's Office"
The Wisconsin Fraternal Order of Police posted to Facebook: "Our hearts are heavy as we mourn the loss of another Wisconsin law enforcement officer killed in the line of duty tonight. The fourth this year, the third in less than a month. This has to stop! Rest easy hero, we have the watch from here."
WEAU will continue to report any updates as the story progresses.
Copyright 2023 WEAU. All rights reserved.