One month missing, what we know about Madeline Kingsbury's disappearance
Published: May. 1, 2023 at 5:23 PM CDT
WINONA, Minn. (KTTC) – Monday marked one month since Winona woman, Madeline Kingsbury suspiciously disappeared. Investigators say this case is still extremely active and open but have yet to arrest or declare anyone a suspect.
This is a timeline of events in Kingsbury's case.
Madeline was last seen Friday morning on March 31 after dropping her two kids off at daycare.

The same day Madeline went missing, a van similar to hers, a 2014 dark blue town and country Chrysler was spotted driving down Highway 47 towards Filmore and Houston Counties. The person driving this van is still unknown.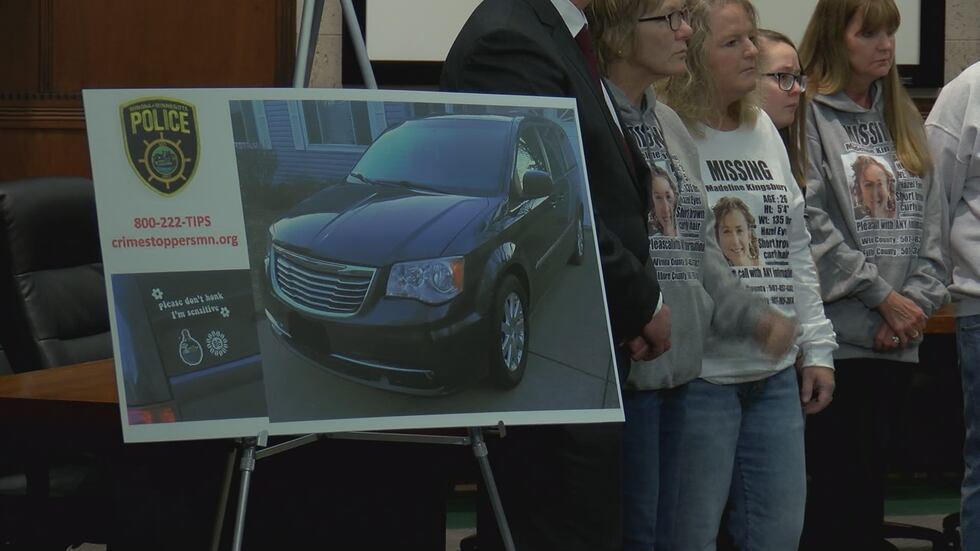 On April 3rd, investigators declared Madeline as an endangered missing person and an official investigation was launched with the Minnesota Bureau of Criminal Apprehension.

Investigators were tight lipped, until they held their first press conference on Wednesday, April 5. Police chief, Tom Williams stated Madeline's disappearance was involuntary and suspicious. At the press conference it was revealed Madeline's phone, wallet and jacket were all found inside her home. Madeline's family attended the press conference and announced a $50,000 reward for information leading to her whereabouts.

On Friday April 7, investigators organized a mass search for Madeline with more than 1,500 volunteers.

Up until this point, it was radio silence from the father of Madeline's two kids, Adam Fravel. Madeline's sister, Megan Kingsbury stated they have not had contact with him. On Wednesday, April 12 an attorney released a statement on Fravel's behalf stating he had nothing to do with Madeline's disappearance and wants the mother of his children to return home safely.

Throughout this time, law enforcement has been conducting searches and volunteer groups have grown on social media. Most recently combing through the old Whispering Hills girl scout camp, searching for the piece that will lead to answers.
While many questions remain unanswered, the family is trying their best to have patience.
"If they have any new leads or anything like that, they haven't until they kind of see it through, but we haven't heard anything new on that," Madeline's sister, Megan Kingsbury said.
Megan explained this waiting process has made her feel numb.
"It's hard to see very far into the future just kind of taking things day by day and just dealing with these as they come," Megan said.
The family will continue to search for answers but want to uplift the community with a vigil. The vigil will be held Friday May 5th at 7:30 p.m. at Veterans Memorial Park in Winona.
Megan also explained the process has been slow, but they want it done right.
"If in the future, someone needs to be held accountable we want to make sure all the ducks are in a row before they peruse that so trying to have a lot of patience," Megan said.
Madeline's family still hasn't heard from the father of her two kids, but the kids are safe and are too young to understand everything.
Now, family and friends are showing their support through the color blue.
"Blue is her favorite color, a lot of us, her friends, and neighbors have blue light bulbs or lamps have as well," Megan said.
KTTC has reached out to the father of Madeline's kid's attorney, he doesn't have any comments to provide on the case at this time.
Copyright 2023 KTTC. All rights reserved.