La Crosse County continues to deal with flooding issues as the Mississippi River will recede soon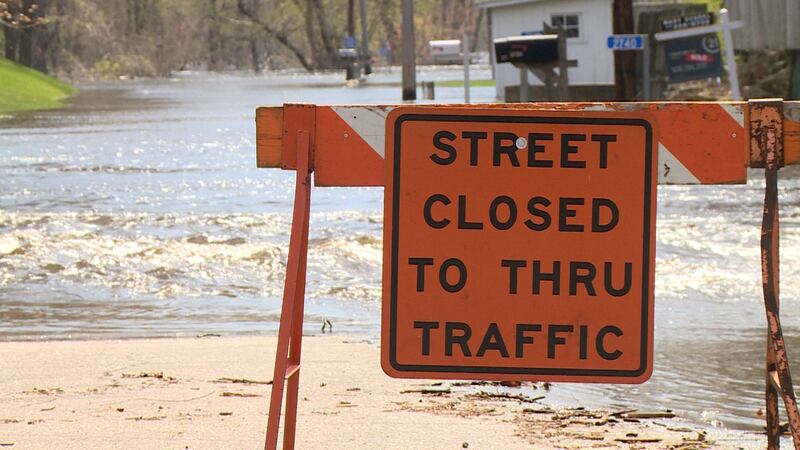 Published: Apr. 27, 2023 at 6:55 PM CDT
LA CROSSE COUNTY, Wis. (WEAU) - The Mississippi and Black Rivers in La Crosse County continue to run high, but are expected to recede in the coming days.
The director of Public Works for the Town of Campbell said flood control is better than expected. Still, some of the streets are flooded.
And along the riverfront, residents are concerned about damage to their property brought on by the flood.
"People with docks, some of them, most of them, got the help they needed. There's a couple of them that have floated away," said Rick Hamilton, a resident of Campbell.
He demonstrated just how high the water got in his backyard.
"Those black wagon wheel tips you see there are decorative hand rails. This ramp would sit on the beach. It's up that much. I've been watching the debris, logs and stuff. But as the current got swifter, the stuff stayed in the center. I'm watching the stuff go by and saying 'please stay in the center.'" said Hamilton.
And a little further south in the county, driving down Seventh Street, you will come across the Town of Shelby.
There the flood waters running more rampant, closing off a huge section of the road. More houses can be seen submerged by the flood.
Rick Kane came out to see the water for himself, even noticing a "sold" sign in one of the flooded homes. Presumably, recently bought.
"It's nice and peaceful here. Reading stories on my phone and listening to the river. I think anybody that lives around here is used to it. It's part of life living by the river. You gotta put up with when it goes up," said Kane.
Back in the Town of Campbell, officials said a handful of voluntary evacuations were made and about a couple dozen homes had Xcel Energy shut of their utilities.
Officials ask the community to not throw away used sandbags. A date will be set up for pickup.
No injuries related to the flood are reported at this time.
Copyright 2023 WEAU. All rights reserved.