Reports: Aaron Rodgers traded to Jets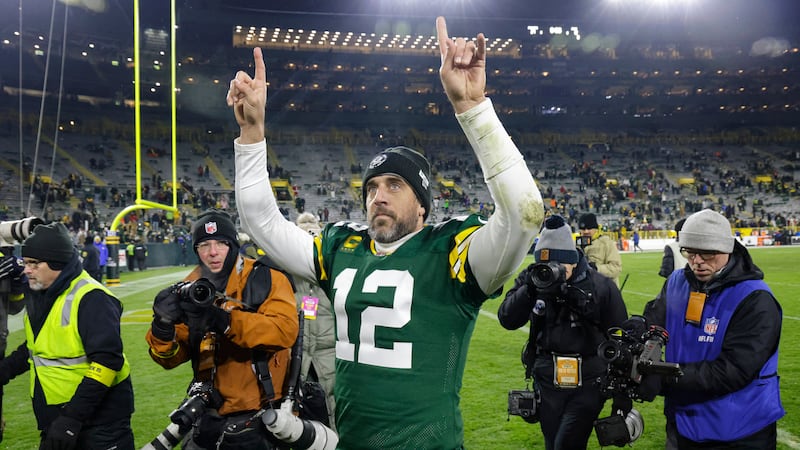 Published: Apr. 24, 2023 at 3:28 PM CDT
GREEN BAY, Wis. (WBAY) - The Packers have reportedly completed the long-awaited trade to send quarterback Aaron Rodgers to the New York Jets., ESPN's Adam Schefter was the first to report the terms.
The Packers' reported will swap their #15 overall pick in the 1st round with New York, to move up two sports to #13 overall. Green Bay also reportedly gets the Jets' first 2nd round pick this (#42 overall) and a 6th round pick this year. In 2024, the Packers will get the Jets' 1st round selection if Rodgers played 65% of the Jets' offensive snaps this season. Green Bay gets a 2024 2nd round pick if Rodgers does not meet that playing time threshold.
General manager Brian Gutekunst said during his pre-draft press conference the trade has not been finalized, but he would have more information later in the week. Getting picks right away in this year's draft was paramount for the Packers.
"I just think, certainly, the capital for this year was very important," Gutekunst said. "Certainly more valuable than certain stuff for our football team. So there were a number of reasons, but that's why. We are expected it to be done very quickly, hopefully soon, a lot of things have been agreed on but there are some things to go through. Those are significant so we are not there yet, but we are expecting to have that done before the draft. Hopefully there is some finality for everybody in it."
Gutekunst can almost R-E-L-A-X. Though the deal was not yet official when he met the media, the GM did talk about the team's mindset this offseason as they decided to move on from their 4-time MVP.
"We were 8-9 last year," Gutekunst said. "You know what I mean? We are trying to get better. And I think that's important. We are chasing Super Bowls, right? And that's an important thing. And that is what this is about. It's not always going to be easy. And it's not always going to go smoothly."
"We were 8-9 last year. And as we move forward, it was about what we were going to do to get better."
Gutekunst views the team's best opportunity to get back to glory as with Jordan Love at quarterback. Gutekunst says a lot of Love's improvement was on display when Rodgers was injured last year. Love took the #1 reps in practice and passed those practice rep tests with flying colors.
"I just think you saw him grow and grow and grow," Gutekunst said. "He didn't get as many opportunities as we would have liked in games last season, but when he did he certainly answered the bell."
The price of chasing a championship the last several years has been paying premier players premier dollars, leaving the team a bit cap strapped. Moving forward, Gutekunst knows he must acquire the cheap talent through the draft to get this team competitive to chase a championship without Rodgers.
"Certainly through the last 3 or 4 years we have kind of done some things that we normally haven't done to chase a championship," Gutekunst said. "It has put us in a spot right now where the draft picks that are getting last year and this year are very important for us.
Jets GM Joe Douglas said all along he was confident Rodgers would be going to New York. We asked Gutekunst if he was confident through this entire process. He admitted there were moments of doubt.
Green Bay and New York will swap picks in the first round of this year's draft with the Packers now selecting first at number 13, and the Jets taking the 15th pick.
The Packers also receive one of the Jets second round picks, number 42 overall, and a sixth rounder in this year's draft. There's a conditional 2nd round pick in 2024 that could become a first rounder if Rodgers takes 65 percent of the offensive snaps this season.
According to Schefter, talks between the two sides broke down briefly before they re-engaged last week. Eventually completing a deal to send Rodgers to the Jets more than a month after the quarterback said he intended to play for New York this upcoming season.
This is the second time the Packers and Jets have collaborated on a trade for a future Hall of Fame quarterback. In 2008, the Jets acquired Brett Favre in exchange for a conditional fourth round pick.
Copyright 2023 WBAY. All rights reserved.