Waterfront restaurant bearing the brunt of Mississippi River flooding
Published: Apr. 20, 2023 at 8:52 PM CDT
PEPIN, Wisc. (KTTC) – Major flooding is hitting some areas in our region hard. The National Weather Service has issued a flood warning on Lake Pepin along the Mississippi in Minnesota, Iowa and Wisconsin.
The Pickle Factory in Pepin, Wisconsin is bearing the brunt of this flood. The waterfront restaurant's patio is nearly completely underwater and its lower-level event and weekend space has a good few inches of water pooling on the ground.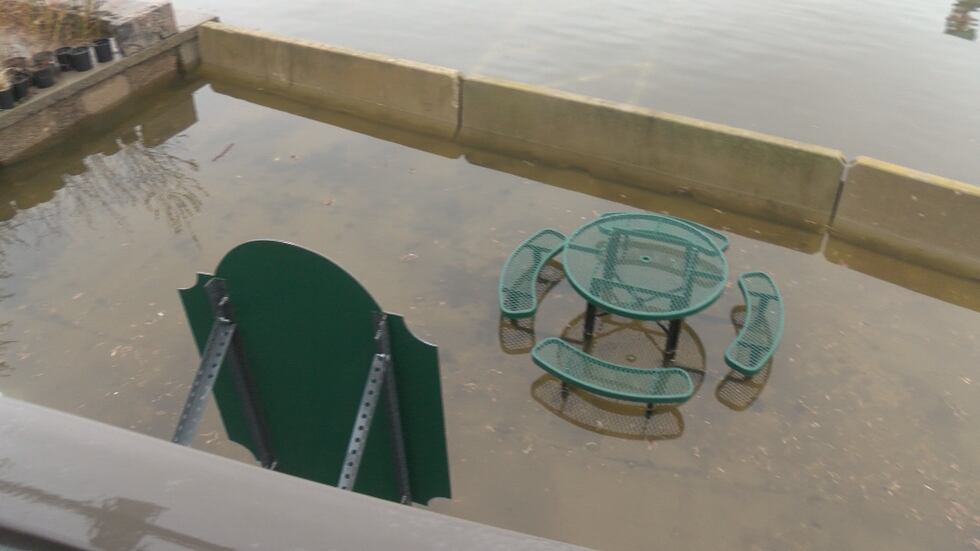 "You never expect it, but you anticipate it. I knew there was flood potential obviously being on the river and this close to the river," owner Paul Wurtz said.
There is moderate flooding on Lake Pepin, and it's inching closer and closer major flooding every day.
"Right now, we're keeping it somewhat at bay, but it's starting to work its way in," Wurtz said.
Staff members doing all that they can to minimize the amount of water in their storefront.
"We've got barricades set out out front to minimize the water slashing against the building, pressure, etc. We've got some sandbags placed out around the doors and then internally as well," Wurtz said.
It hasn't even reached its crest yet, that date continuing to be pushed back. Wurtz says he doesn't know the extent of the damage right now.
"We won't know until it's all out and dried up at least yet. So, if this all fills up and bleeds into the back kitchen area and storage area then we have bigger problems," he said.
But despite these challenges, this restaurant is still open for business.
"I've got staff that needs to work, and we still put out a good food product that we hope will get people in to come and watch the water and ducks float around. Maybe they'll swim right up to their lap. Who knows?" he said.
Employees over at the Pickle Factory have found a bit of humor in this situation. They're putting on high water specials where if you come in wearing high water pants, you'll get half off their fried pickles.
Copyright 2023 KTTC. All rights reserved.