WI DOJ releases names of officers and suspect killed in shooting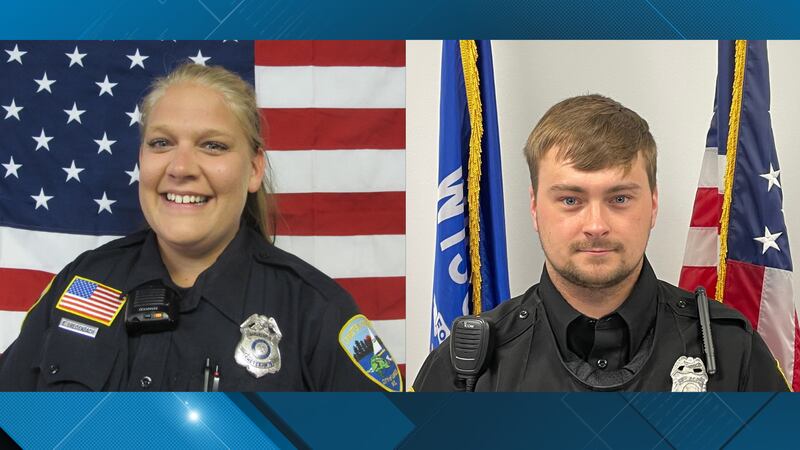 Published: Apr. 10, 2023 at 2:26 PM CDT
VILLAGE OF CAMERON, Wis. (WEAU) - The Wisconsin Department of Justice (DOJ) Division of Criminal Investigation (DCI) has released the names of the officers killed during a traffic stop in the Village of Cameron Saturday afternoon.
The DOJ says Chetek Police Officer Emily Breidenbach, age 32, was killed along with Cameron Police Officer Hunter Scheel, age 23.
Breidenbach and Scheel were conducting the traffic stop based on a warrant and to check the welfare of the driver, who has been identified as Glenn Douglas Perry, age 50, following notification of concerning behavior. During the traffic stop, gunfire was exchanged.
Officer Breidenbach and Officer Scheel were pronounced dead at the scene. Perry was taken to a hospital where he later died.
The DOJ says Officer Breidenbach started her law enforcement career with the Stoughton Police Department in Dane County. She served there for about nine months before she joined the Chetek Police Department, where she had served for approximately 4 years.
Officer Scheel graduated from the Law Enforcement Academy in December of 2022. He had been with the Cameron Police Department for approximately one year.
The DOJ says there is no threat to the community.
DCI is leading this investigation and is assisted by Barron County Sheriff's Office, Rusk County Sheriff's Office, Wisconsin Department of Natural Resources, Wisconsin State Patrol, Minnesota Bureau of Criminal Apprehension, the Federal Bureau of Investigation, Wisconsin State Crime Lab, a DCI Crime Response Specialist, and Cameron Fire Department. All involved law enforcement are fully cooperating with DCI during this investigation.
DCI is continuing to review evidence and determine the facts of this incident and will turn over investigative reports to the Barron County District Attorney when the investigation concludes.
You can find the WI DOJ press release online here.
The Chetek Police Department and Cameron Police Department also released statements below:
Copyright 2023 WEAU. All rights reserved.