Communities mourn loss of two officers in Barron County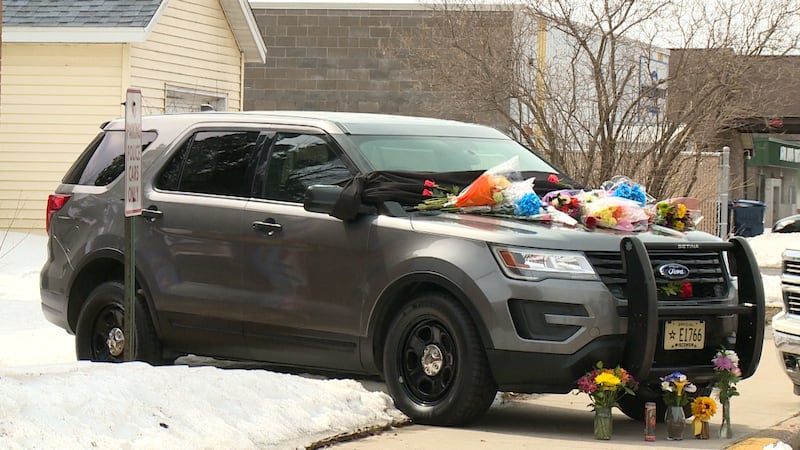 Published: Apr. 9, 2023 at 9:06 PM CDT
BARRON COUNTY, Wis. (WEAU) - Communities are mourning the loss of two officers killed in the line of duty in Barron County Saturday afternoon.
The scene right off Hwy-8 and County Road SS near the Village of Cameron where an officer with the Chetek Police Department and an officer with the Cameron Police Department were shot and killed is clear.
Now two communities are mourning their loss.
Danny Keith said it is rare for such a tragedy to occur.
"Stuff like that doesn't happen much around here very much at all. In the very rare event that it does, it's just a huge shock to the community," said Keith. "A lot of the people around here do know the cops personally. I'm sure that is going to really hurt a lot of people, and their families too."
Just down that same road where the tragedy happened, the squad car of one fallen officer is parked next to the police station in the City of Chetek.
It now serves as a memorial for everyone to pay their respects. Some community members still trying to process what happened.
"I just kind of thought... why do they go to do that kind of stuff. They were just doing their job," said Tim Schoren. "It's going to be hard on me when I see that squad car... every time I see that car."
Lori and Matt Doering drove all the way from Wisconsin Rapids to honor the fallen officers.
The Doerings have two sons in blue.
"And I know every day they go out and put their lives on the line. And then this happens, and it just hits home and I know how real it can be," said Lori.
"Life is so precious, and to see it gone so quickly is just so heart breaking," said Matt.
"And so just to know that we stand with them, and the department. It just reverberates. I mean I know it's a family nationally and in this small community," said Lori.
"And I admire the dedication and knowing the uncertainty and being able to step into that role everyday," said Matt.
In the wake of these losses, community members like Nick Apfel said offering condolences is all anyone can do right now.
"Let's just keep the families in our prayers and continue to back the blue," said Apfel.
Copyright 2023 WEAU. All rights reserved.