Russian strikes in Ukraine kill 10 civilians, wound 20 more
Published: Mar. 24, 2023 at 6:26 AM CDT
|
Updated: Mar. 24, 2023 at 9:33 AM CDT
KYIV, Ukraine (AP) — Long-range Russian bombardment killed at least 10 civilians and wounded 20 others in several parts of Ukraine on Friday, officials in Kyiv said, as a Kremlin official boasted that its forces were prepared to repel an expected Ukrainian counteroffensive this spring.
Five people died in Kostiantynivka, in eastern Ukraine's Donetsk province, when a Russian missile hit an aid station. Ukrainian authorities last year established hundreds of "points of invincibility," where residents hard-pressed by the war could warm up, recharge their cellphones and get food.
Prosecutors said the Russians attacked with S-300 anti-aircraft missiles. The civilians who died were refugees, according to Donetsk Gov. Pavlo Kyrylenko.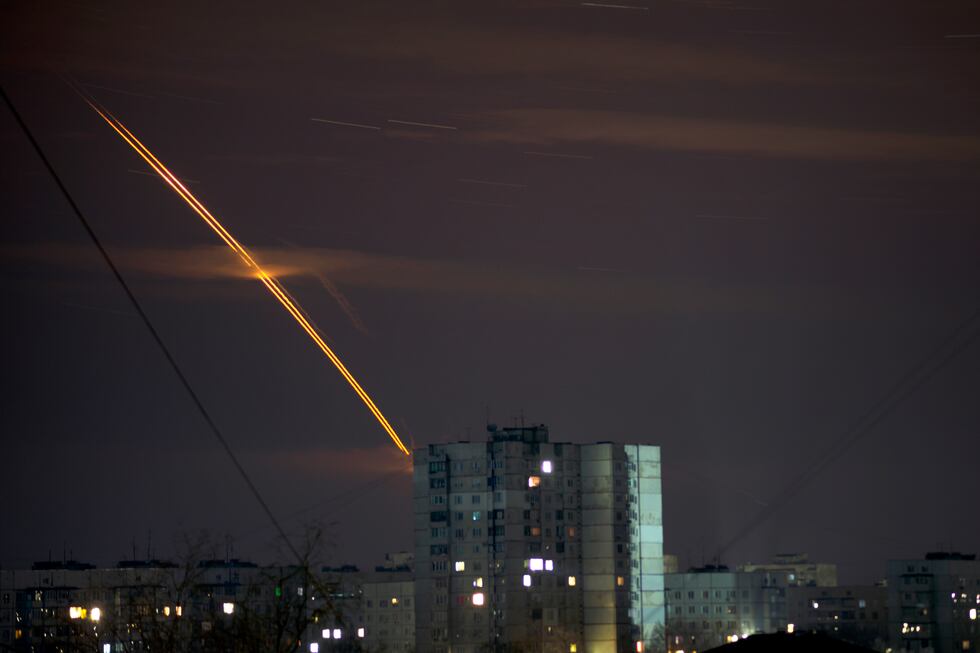 As the mostly artillery war of the winter months stretches into its second spring, Russian forces also used air-launched missiles, exploding drones and gliding bombs to attack several regions, Ukrainian air force spokesman Yurii Ihnat said.
Two civilians were killed and nine were wounded in the town of Bilopillia in Sumy province by an overnight rocket and artillery barrage and airstrikes, officials in the northeastern region said.
In southern Ukraine, Russian shelling killed one person in the city of Kherson and killed another person and wounded four others in the town of Bilozerka. President Volodymyr Zelenskyy visited that region Thursday.
Ukrainian forces are poised to use the arrival of warmer weather and new weapons from the West, including tanks, for a counteroffensive aimed at dislodging Russian troops from occupied areas.
But Dmitry Medvedev, Russia's former president and now deputy head of the country's Security Council chaired by President Vladimir Putin, said its forces were ready to repel a counterattack.
"Our General Staff is assessing all that," Medvedev said.
He added that any Ukrainian attempt to seize Crimea, which Russia illegally annexed in 2014, could trigger a nuclear response from Moscow.
"An attempt to split part of the state away means an encroachment at the very existence of the state," he said. "Quite obviously, it warrants the use of any weapons. I hope our 'friends' across the ocean realize that."
Medvedev is known for frequent bombastic pronouncements, but his warning also stems from Russia's security doctrine envisioning the use of its atomic arsenal in response to a nuclear attack or one with conventional weapons that threatens "the very existence of the Russian state."
Medvedev also said that Western experts operating weapons, such as the U.S.-made Patriot air defense missile systems supplied to Ukraine, could be targeted. Ukrainian soldiers have received training in the U.S., although Russian officials frequently claim that foreign instructors are in Ukraine.
"If Patriot or other weapons are delivered to the territory of Ukraine along with foreign experts, they certainly make legitimate targets, which must be destroyed," Medvedev said in video posted to his messaging app channel. "They are combatants, they are the enemies of our state and they must be destroyed."
"They must understand that as soon as an American or a Polish soldier shows up there, he must be killed," he added.
The Kremlin wants to create a "sanitary cordon" of up to 100 kilometers (60 miles) around Russian-held areas so short- and medium-range weapons can't hit them, Medvedev said.
Moscow may even try to grab a chunk of Ukrainian territory stretching all the way to Polish border, he said.
Also Friday, Kremlin spokesman Dmitry Peskov welcomed Denmark's plans to invite the operator of the Nord Stream 2 gas pipelines to join a mission to recover an object discovered near the pipeline damaged in an explosion in September. There is still no accepted explanation for the sabotage on the Russia-to-Germany pipelines.
"This investigation should be transparent and inclusive from the standpoint of involvement of all parties concerned," he said, adding that the object was located near a pipe weld, the most vulnerable section of a pipeline on the Baltic seabed.
___
Follow AP's coverage of the war in Ukraine: https://apnews.com/hub/russia-ukraine
Copyright 2023 The Associated Press. All rights reserved.