Rain, then snow today; windy, very cold weather tomorrow and this weekend
High temps will be in the low 40s today; teens and 20s tomorrow and this weekend
Published: Mar. 16, 2023 at 8:02 AM CDT
ROCHESTER, Minn. (KTTC) – We're enjoying the warmest weather of the year right now as mild air continues to build northward ahead of an approaching storm system to our west. Unfortunately, this warm spell is going to end later today as that system drags a cold front through the region and the result will be the coldest weather of the month over the next few days. Expect light rain in the late morning and afternoon before the cold front pushes through the area and the rain changes to snow. A minor coating of snowfall will possibly lead to a rather slick evening commute on roads and highways. Temperatures will from the low 40s in the midday hours to the low 30s around sunset. Winds will turn from the southwest to the northwest in the late afternoon and become much stronger.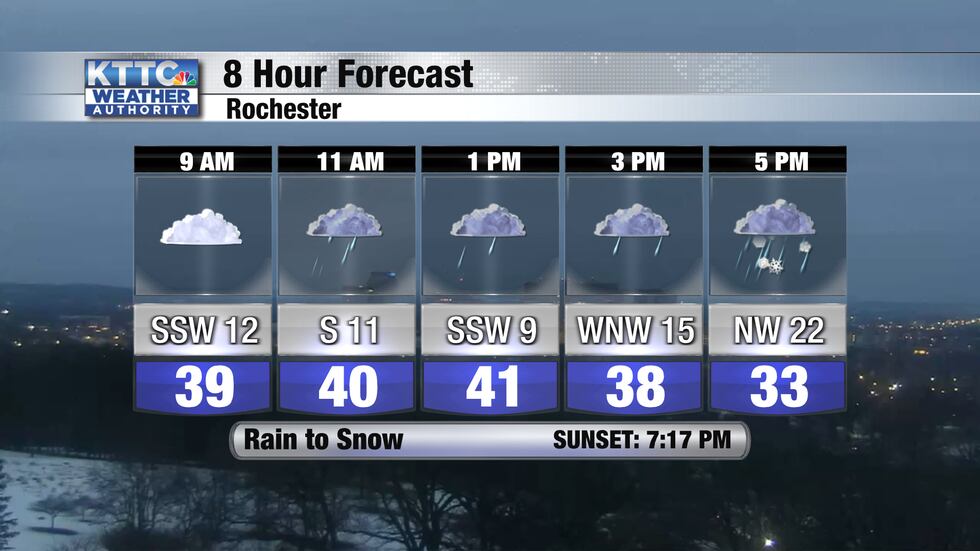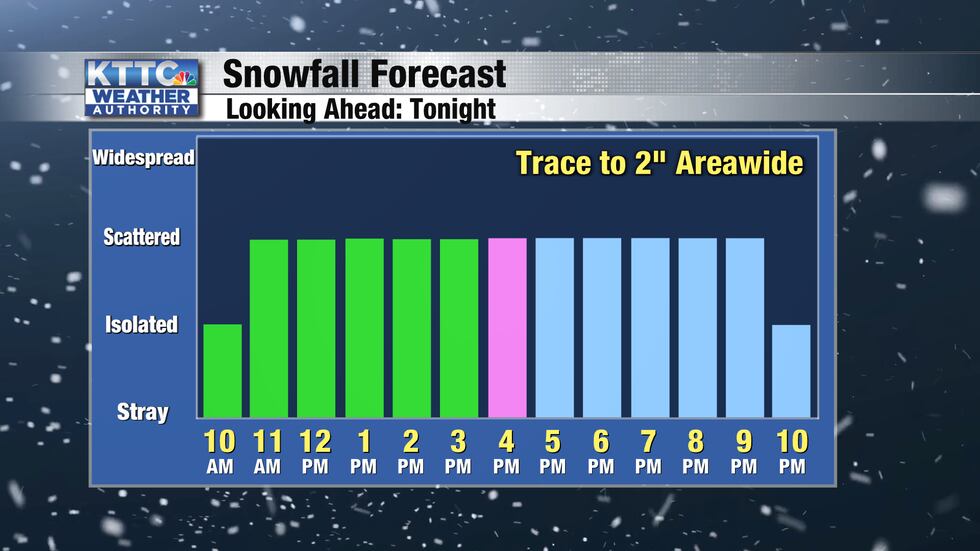 Snowfall will continue until 9:00 or 10:00 this evening with up to two inches of accumulation in the area, mainly to the northwest. In Rochester, less than an inch of snowfall is likely and parts of the area to the southeast will end up with less than half an inch. As temperatures drop to the 20s this evening, the wet snow and refreezing puddles will lead to slick patches on roads. A strong northwest wind will also potentially create blowing snow issues on many roads as black ice may form and slippery conditions will be more widespread. Overnight lows will be in the low teens with northwest winds reaching 40 miles per hour at times giving us wind chills values slightly below zero.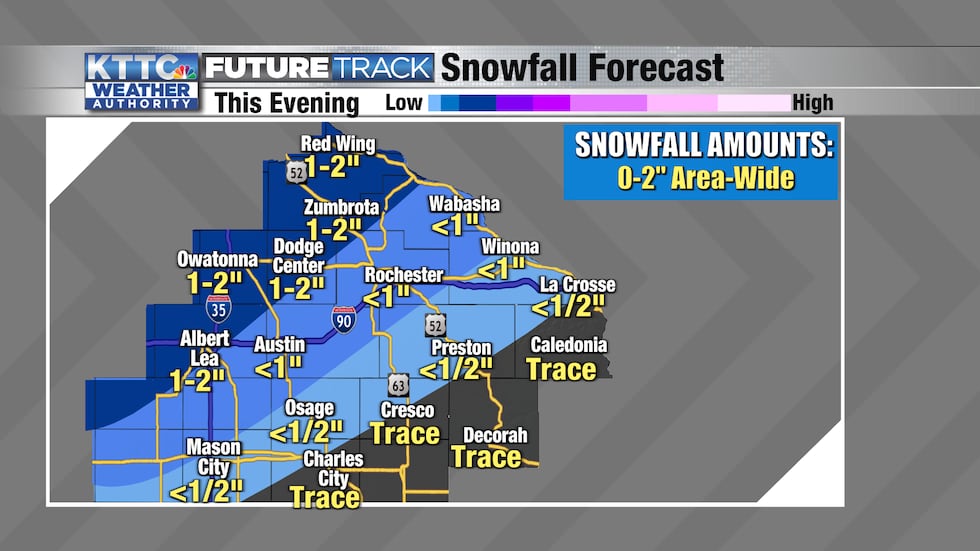 Strong northwest winds will continue to howl across the area on Friday, making for a January-like day. A few breaks of sunshine will be possible during the day with high temperatures only in the upper teens to around 20 degrees. Wind chill levels will be around zero as wind gusts reach 30 to 35 miles per hour. It will be the coldest St. Patrick's day in Rochester since 1993 when the high temperature was only eleven degrees!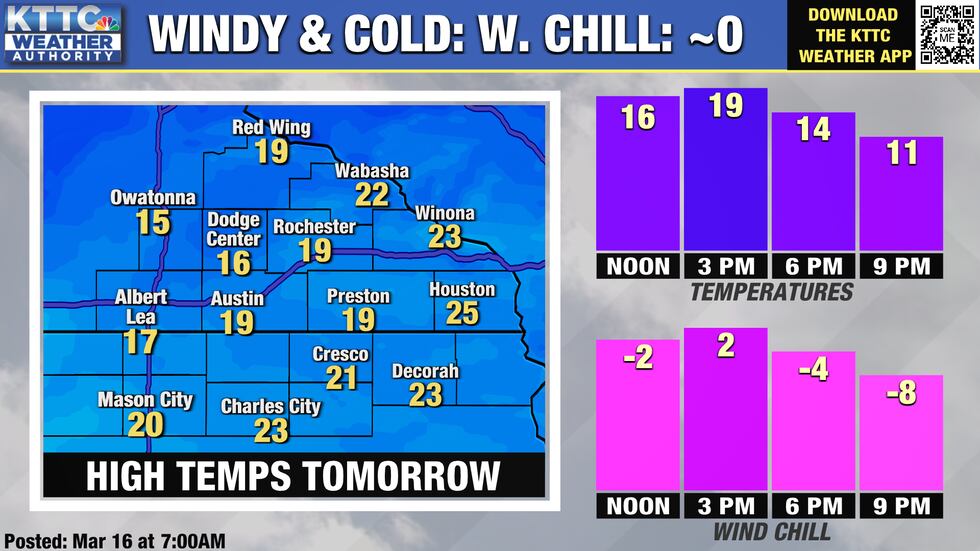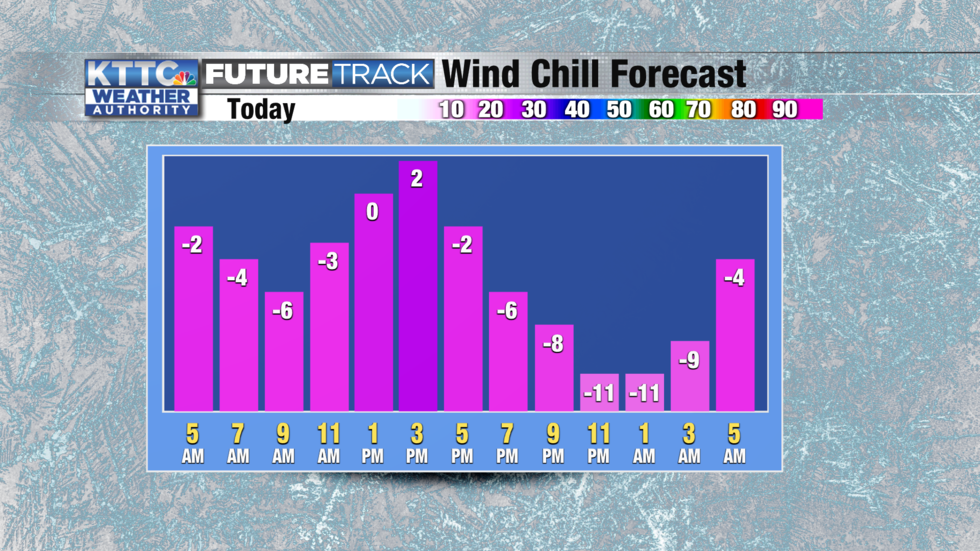 Saturday looks equally as frigid as temperatures will struggle to reach the 20s and that harsh northwest wind will continue to keep wind chills around zero. A few snow flurries will be possible in the morning.
Winds will subside for Sunday while clouds finally clear off. Expect a fairly sunny day with high temperatures in the upper 20s.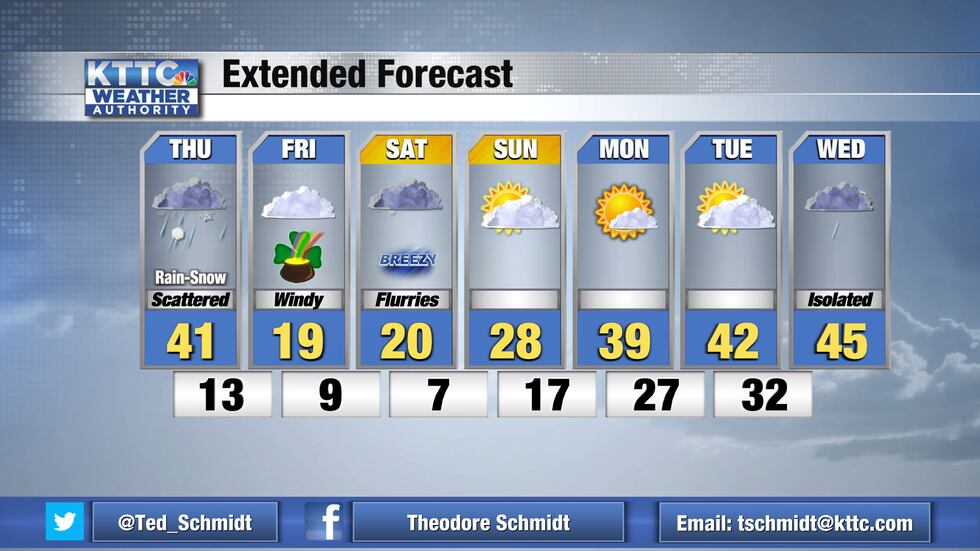 Temperatures will be much more spring-like in the upcoming week as warmer air builds northward into the area. Highs will warm from the upper 30s on Monday to the 40s for most of the remainder of the week. A few light rain showers will be possible Wednesday and Thursday with light snow or a rain and snow mixture next Friday.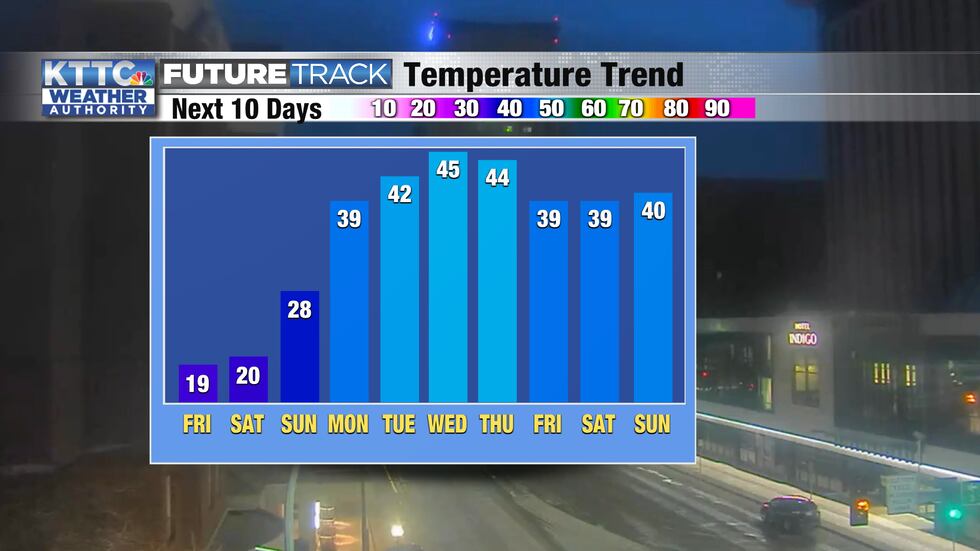 Copyright 2023 KTTC. All rights reserved.