KIDS WITH COURAGE: Harriet Kendrick
Updated: Feb. 22, 2023 at 10:00 PM CST
MINNEAPOLIS, Minn. (KTTC) – KTTC is honored to introduce viewers monthly to some of the youngest among us, facing the unthinkable with bravery and optimism. In our 30th "Kids With Courage" segment, Caitlin Alexander introduces us to 10-month-old Harriet Kendrick.
February is Heart Month, a time to think about cardiovascular health. Our February Kid With Courage is from southwest Iowa, but her fight brought her family to Minnesota.
"She likes to screech and sing," Harriet's father, Josh told KTTC.
In some ways, Harriet is a lot like other 10-month-olds. However, medically-speaking, her journey hasn't been anything like other infants.
In fact, her story involves a procedure that's led to a positive outcome fewer than 10 times in history.
"It was absolutely frightening," Harriet's mother, Hannah, recalled.
Hannah and Josh Kendrick were excited for their 20-week ultrasound, but the scan didn't deliver the clean bill of health they were hoping for.
It showed a tumor on Harriet's heart that could make her heart fail.
"We held it together really well in the doctor's office, but as soon as we went out to the parking lot, we held each other and we cried," Hannah said.
Harriet had what's called a pericardial teratoma. It's extremely rare.
According to the Midwest Fetal Care Center, a collaboration between Allina Health and Children's Minnesota, from 2000 to 2020, there were only 55 fetal pericardial teratomas reported in the world.
The Kendricks were referred to the Midwest Fetal Care Center in the Twin Cities and met Dr. Joseph Lillegard, the head of open fetal surgery.
"The teratoma was about the size of a thumbnail, and that doesn't sound too terribly big, but for a fetus, that's huge," Dr. Lillegard said.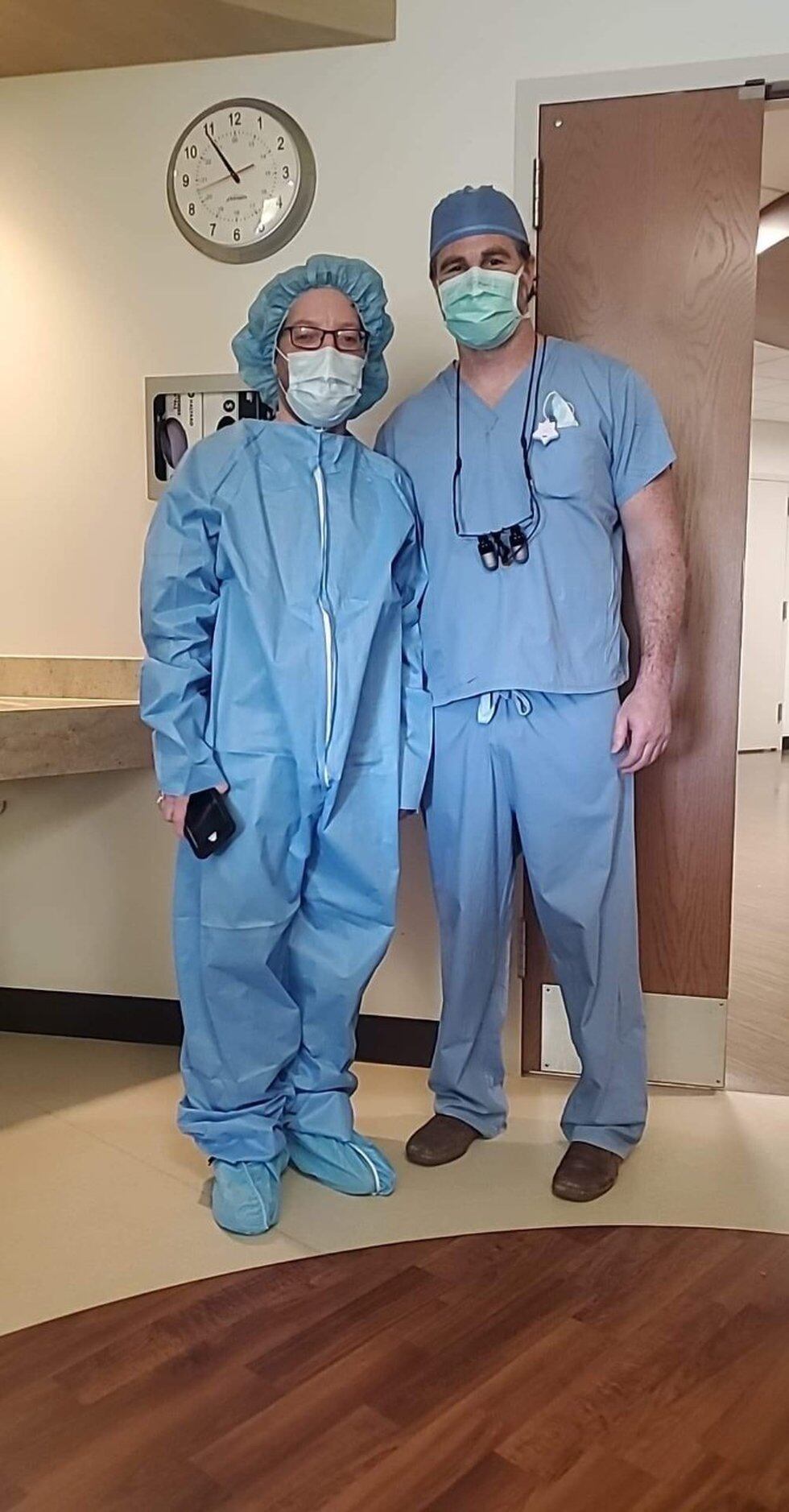 Hannah went through two scans a week for the rest of her pregnancy: one in Iowa and one in the cities.
That continued until she was 32 weeks along.
"I'd actually had so many ultrasounds by that point that I kind of knew what I was looking at, and as soon as they started the ultrasound, I knew," Hannah said. "I saw the fluid around her lungs, under skin, so I knew immediately."
Hannah rushed to the Midwest Fetal Care Center where Dr. Lillegard and his team prepared to attempt a surgery to debulk the tumor and safely deliver Harriet.
"An exit procedure is very similar to a c-section type delivery, except we're going to do significant surgery on the baby while still connected to mom and the placenta," he explained.
Surgeons made an incision in Hannah's uterus to expose Harriet's chest. They opened her sternum and removed about 80 percent of the the tumor to give Harriet a chance at surviving birth.
The surgery was successful, and the moment Hannah and Harriet met was captured on video.
"I was elated," Hannah recalled. "We never knew what the outcome was going to be."
Harriet needed another surgery the night of her birth to complete the resection of her tumor, and then another surgery two months later.
Doctors will continue to monitor her heart and the area around it as she grows.
Her parents are also working to wean her off a feeding tube.
They told KTTC they're very proud of Harriet, her medical team, and this success story.
"Every time it's done successfully, the odds go up for the next one," Josh said. "She's the strongest, toughest, least complaining little girl. She's amazing. I wish I was half as strong as she is."
Hannah and Josh also wish to thank the Ronald McDonald House for giving them a place to stay in the Twin Cities while Harriet was hospitalized for the first few months of her life.
They said they hope to remind other people thinking of growing their families to never skip routine prenatal medical care. It's how doctors caught Harriet's condition.
If you know a Kid With Courage Caitlin should meet, email her at kidswithcourage@kttc.com.
Copyright 2023 KTTC. All rights reserved.