Woman attacks attorney at hearing in murder and dismemberment case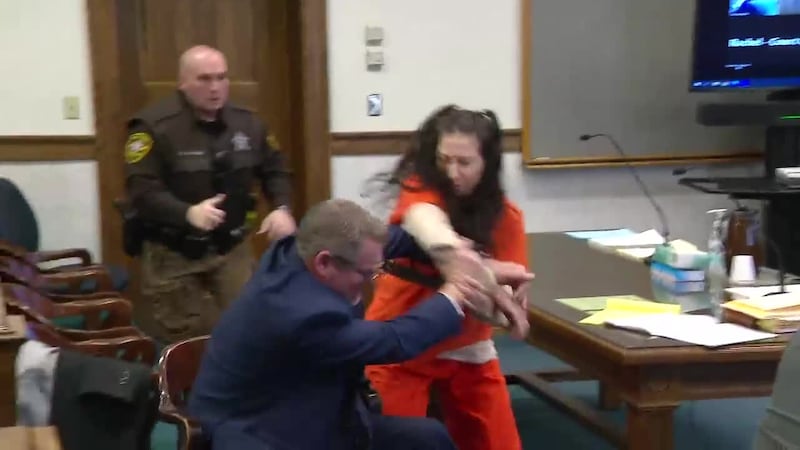 Published: Feb. 14, 2023 at 5:37 AM CST
|
Updated: Feb. 14, 2023 at 4:59 PM CST
GREEN BAY, Wis. (WBAY) - A Green Bay woman charged in a murder and dismemberment case attacked her attorney in Brown County Court Tuesday.
Taylor Schabusiness lunged at attorney Quinn Jolly and was pinned to the ground by a deputy. Schabusiness struggled with a deputy who attempted to subdue her.
Additional deputies were called to the courtroom.
The call was heard over the scanner: "They need a code three in branch two, wrestling with Schabusiness."
Jolly asked the judge to withdraw from the case. He will have to file with the court.
After the attack, Schabusiness was heard asking deputies what happened.
"You went off on your attorney, Taylor, you went crazy on your attorney," they responded.
Article continues below the video
Schabusiness, 25, was in court for a competency hearing. She's charged with the February 2022 killing and dismemberment of Shad Thyrion. Jolly started off the hearing by asking the court for two more weeks so the defense expert could testify on Schabusiness's competency. The judge agreed to push back the trial to May. That appeared to have set Schabusiness off.
That competency hearing has been adjourned to March 6. That's when Schabusiness was originally scheduled to stand trial.
Schabusiness has pleaded not guilty by reason of mental disease or defect to charges of 1st Degree Intentional Homicide, Mutilating a Corpse, and 3rd Degree Sexual Assault.
An "NGI" plea comes with a mental competency examination.
During a hearing earlier this month, attorney Quinn Jolly requested the trial be pushed back so he could prepare for the "voluminous" amount of evidence to be presented by the state. A judge refused the request.
The prosecution is expected to call up to 37 witnesses.
Article continues below the video with background on the murder
Last February, Green Bay police were called to a home on Stony Brook Lane. The caller reported finding her son's severed head in a bucket.
Police learned that Taylor Schabusiness may have been the last person to be seen with the victim, Shad Thyrion. They found Schabusiness at a home on Eastman Avenue. She had dried blood on her clothing.
Police searched Schabusiness's van and the rear passenger seat. They found a crock pot box with "additional human body parts including legs," according to the criminal complaint.
Police obtained a search warrant for the home on Stony Brook Lane, which belonged to the victim's mother. In addition to the human head, they found a "male organ" in the bucket. They found "body fluid" and knives.
In a storage tote, they found an upper torso.
Police interviewed Schabusiness and asked her what happened. She replied, "That is a good question." Schabusiness said she and the victim were together all day Tuesday and had been smoking meth. After they arrived at the Stony Brook home, they were having sex and incorporated chains. Schabusiness said she blacked out during part of it but just went "crazy" and started strangling the victim.
Schabusiness told investigators she did not mean to kill the victim but she enjoyed choking him and continued to do it. Prosecutors say the sexual assault charge is for acts that happened after the victim died.
Copyright 2023 WBAY. All rights reserved.