Gun safety bills gain in Minnesota amid Democratic control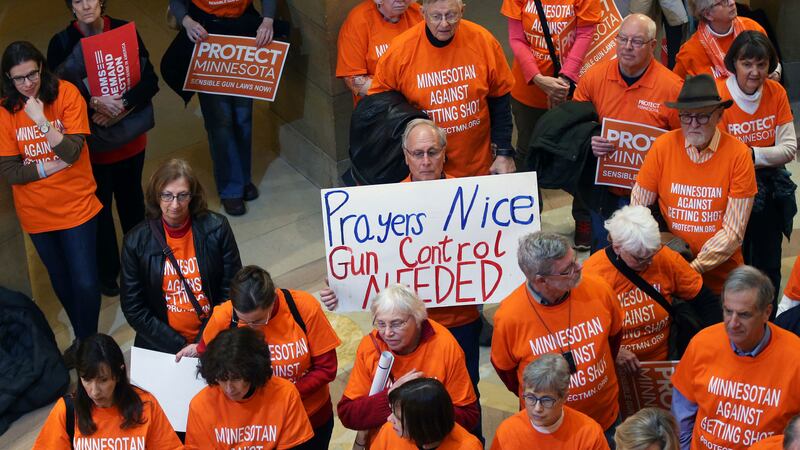 Published: Feb. 10, 2023 at 10:41 AM CST
ST. PAUL, Minn. (AP) — Gun safety bills are advancing at the Minnesota Legislature, backed by Democrats who are hoping their new control of both chambers will help them pass proposals that Republicans were able to block in recent years.
The two main bills would expand background check requirements for firearm sales and other transfers, and allow authorities to temporarily confiscate guns from people in crisis under what are commonly known as red flag laws or extreme risk protection orders. They're moving ahead as the national debate over preventing gun violence becomes increasingly polarized.
The former Minnesota Senate GOP majority prevented much discussion of the proposals in their body over the last several years. But Democrats gained a one-seat Senate majority in the November elections to win the trifecta — control of both chambers and the governor's office — for the first time in eight years. That's given gun safety advocates hope while putting Second Amendment activists on the defensive.
The House Judiciary Committee approved the bills on party-line votes Thursday and sent them to what's likely to be their third and final committee stop before floor votes in the coming weeks. But it remains to be seen if there will be enough support among Senate Democrats, whose one-seat majority held firm on tough votes on abortion and climate change over the past two weeks.
"Criminal background checks are in use all around the country," Democratic Rep. Dave Pinto, of St. Paul, a Ramsey County prosecutor, told the committee as it took up his bill. "They're keeping the residents of those states safer."
The red flag bill would allow family members, mental health professionals and law enforcement to seek orders from judges to temporarily prohibit people in immediate danger of harming themselves or others from possessing or purchasing firearms for up to a year.
While Minnesota already requires instant criminal background checks for gun sales at licensed dealers, that bill would extend them to most private transfers of pistols and "semiautomatic military-style assault weapons." Police chiefs and sheriffs could deny transfer permits if they deem an applicant a danger to the public or themselves.
"It has been shown to be an impactful and effective tool in the states that are using it," said Democratic Rep. Cedrick Frazier, a New Hope attorney and lead author of the red flag bill.
While police, mental health groups and Gov. Tim Walz support both bills, the Minnesota Gun Owners Caucus, the National Rifle Association and Republican lawmakers are trying to fight them off.
"This is a great one-two punch to dismantle our Second Amendment," said Republican Rep. Brian Johnson, of Cambridge, a former Isanti County deputy.
Democratic President Joe Biden reiterated his support for expanded background checks and red flag laws in his State of the Union speech on Tuesday. But a shooting at a Target store in Nebraska last month demonstrated how gun laws can fail to keep firearms out of the hands of deeply troubled people, despite a national effort to pass red flag laws in recent years.
Nineteen states have red flag laws, but each new mass shooting seems to widen the political divide on who should be allowed to have guns and what types should be permitted. Disputes over gun laws on the books often wind up in court because of constitutional issues.
Rob Doar, senior vice president of the Minnesota Gun Owners Caucus, said in an interview that Democrats couldn't enact gun restrictions when they had the trifecta 2013-14. But some powerful rural Democratic champions of gun rights back then are now gone. Doar said their successors have been "very quiet" on where they stand, and that it's not clear whether they'll be as enthusiastic about the two proposals as their colleagues from the Minneapolis-St. Paul metro area.
Senate Judiciary Chairman Ron Latz, of St. Louis Park, the chief author in his chamber of both proposals, declined to say when he'll schedule hearings on them. He said in an interview that he's "cautiously optimistic" about them becoming law but that the Democrats' one-seat majority and the presence of many freshmen senators who are new to the debate mean passage is not a sure thing.
"You never know for sure until people go up on the board. So we'll see. It's tight," Latz said.
Copyright 2023 Northern News Now. All rights reserved.