First Alert Days Today and Tuesday: Bitterly Cold Wind Chill Indices
Wind chill levels -15 to -30 today and Tuesday
Published: Jan. 30, 2023 at 8:15 AM CST
ROCHESTER, Minn. (KTTC) – Arctic air remains entrenched in the region today under a strong area of high pressure that is approaching from the Plains, setting the stage for a sunny, but very cold Monday. The sunshine will do very little to help temperatures, unfortunately, as afternoon readings will be around zero with wind chill values at the warmest only in the teens below zero. Because of the brutally cold wind chill indices, today and tomorrow have been declared First Alert Days. Under generally clear skies tonight temperatures will plummet to the teens below zero and wind chill values will be around -25 to -30.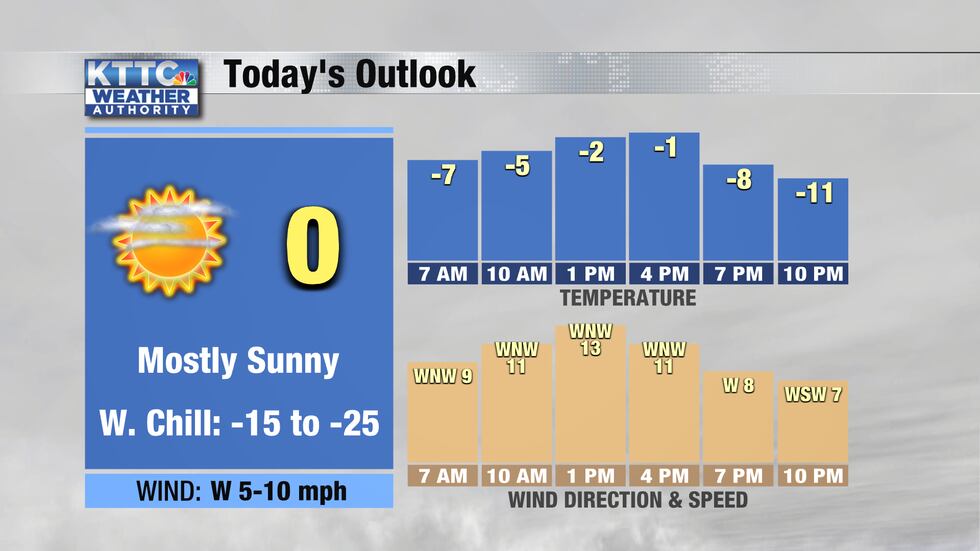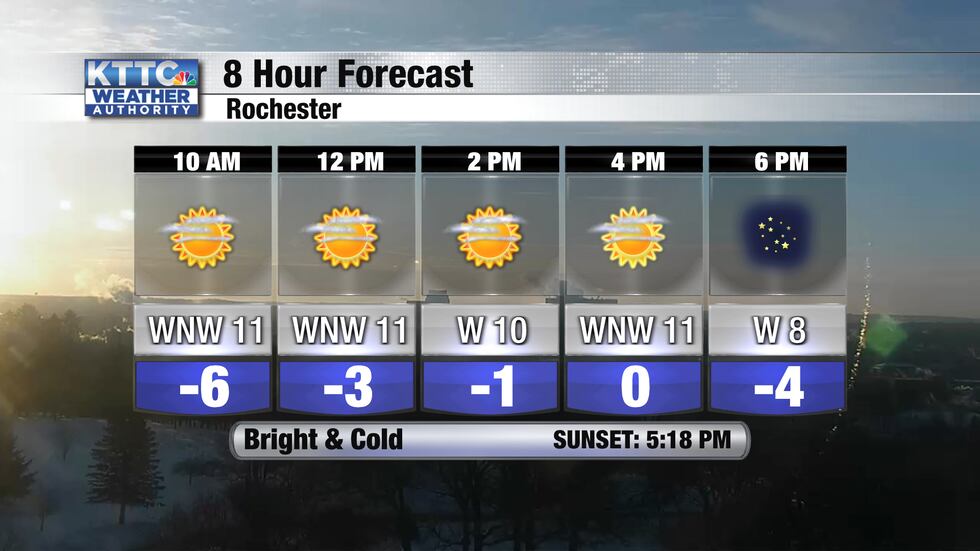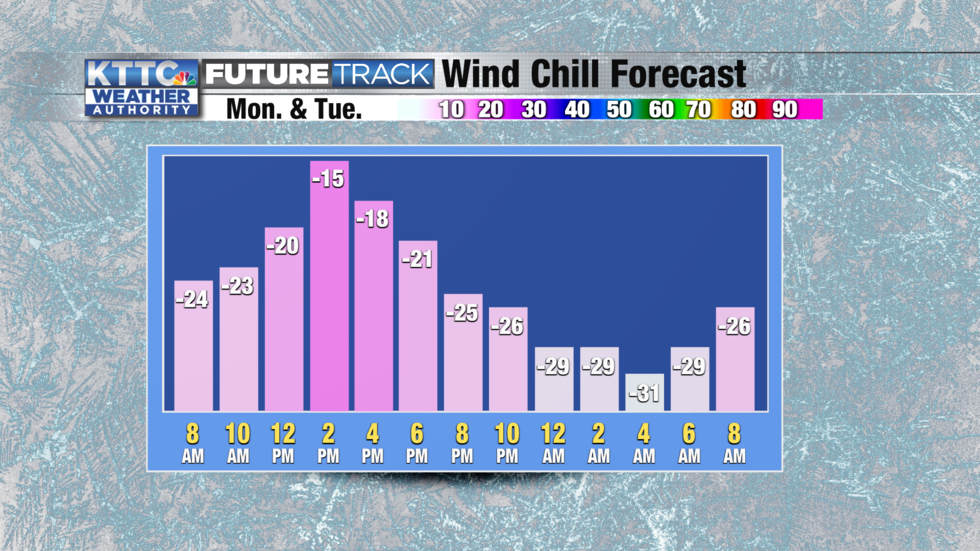 After a frigid start to the day Tuesday, gusty southwest winds will work to pull in warmer air. A mostly sunny sky combined with those winds will lead to afternoon readings in the single digits and low teens, a slight improvement from the beginning of the week, but will chill values will remain sub-zero.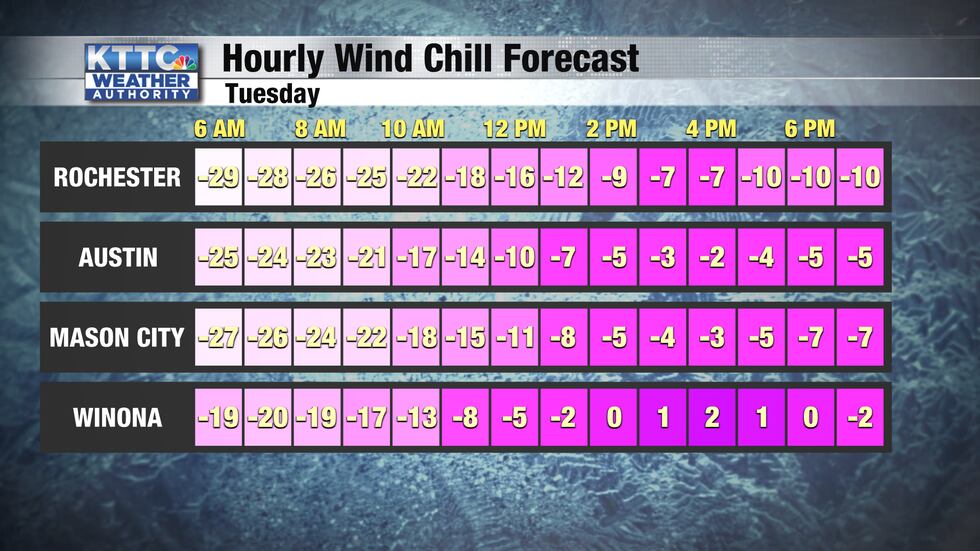 Winds will subside a bit on Wednesday with occasional sunshine and clouds in the area. High temperatures will be in the teens with a slight southwest breeze.
Colder air will again blow into the area late on Thursday and Friday. We'll have high temperatures in the teens Thursday afternoon with morning lows around -10 on Friday. Afternoon high temperatures Friday will only be in the single digits under a mostly sunny sky.
A weak clipper-type storm system will graze the area to the north on Saturday, pulling in warmer air and bringing a slight chance of light snow in the afternoon. Little if any accumulation is exported right now, however. High temperatures will be in the upper 20s to low 30s with a gusty south breeze.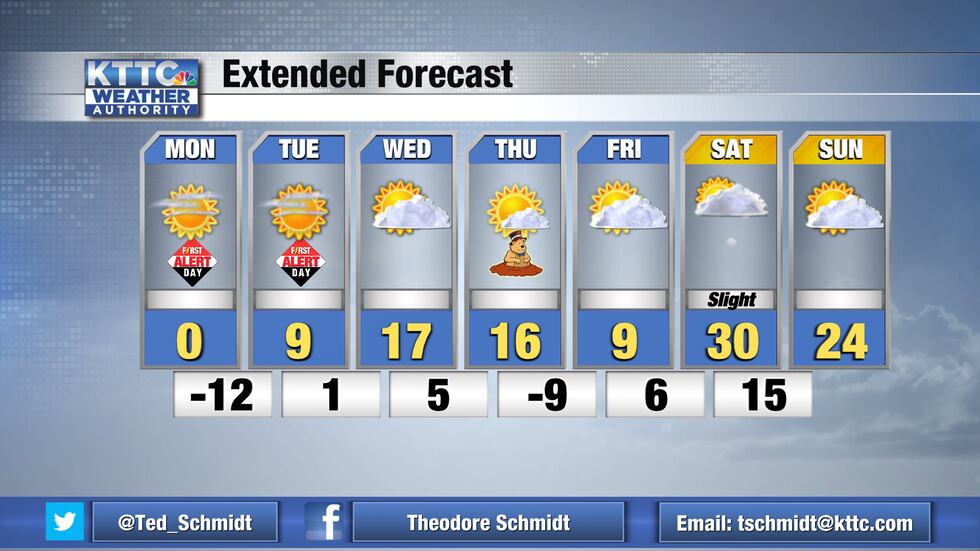 Sunday is looking a bit sunnier, but still breezy. High temperatures will be in the mid-20s to round out the weekend.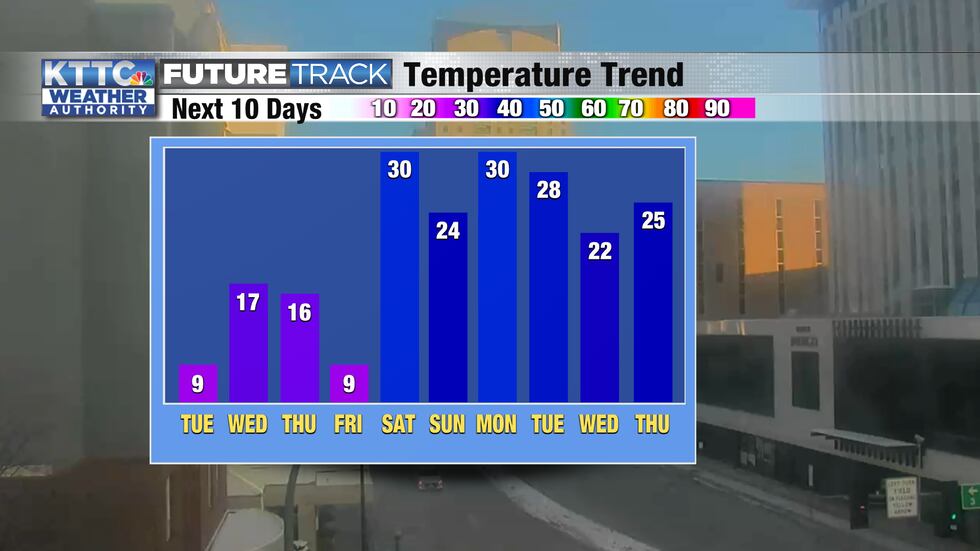 Copyright 2023 KTTC. All rights reserved.