RAGBRAI announces 2023 overnight towns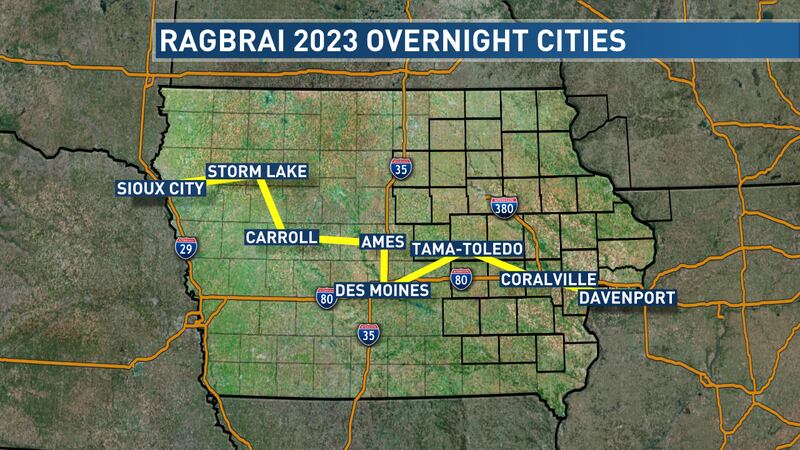 Published: Jan. 28, 2023 at 8:59 PM CST
DES MOINES, Iowa (KCRG) - The eight major cities that will be used as waypoints along the route of RAGBRAI in 2023 have been announced.
The cities listed as overnight towns for the 50th anniversary of the statewide bicycle ride include Sioux City, Storm Lake, Carroll, Ames, Des Moines, Tama-Toledo, Coralville, and Davenport. This is a more southern route than the path the 2022 ride took, and generally a bit south of the 2021 ride.
The event takes place between July 22 and July 29, 2023.
Coralville city officials lauded the selection of their city as a stop on the famous bike ride, which serves as an economic boost in the late summer period.
"RAGBRAI is a special event that the City of Coralville holds near and dear to our heart," Meghann Foster, mayor of Coralville, said, in a statement. "The synergy of this being the 50th anniversary of RAGBRAI and the 150th anniversary of Coralville is a perfect fit. We'll be ready to welcome riders to the 'Hub of Hospitality' in Coralville."
The entire ride is planned to span 500 miles. Exact details of the route will be announced at a later date.
Copyright 2023 KCRG. All rights reserved.