A Mondovi horse ranch offers non traditional therapy sessions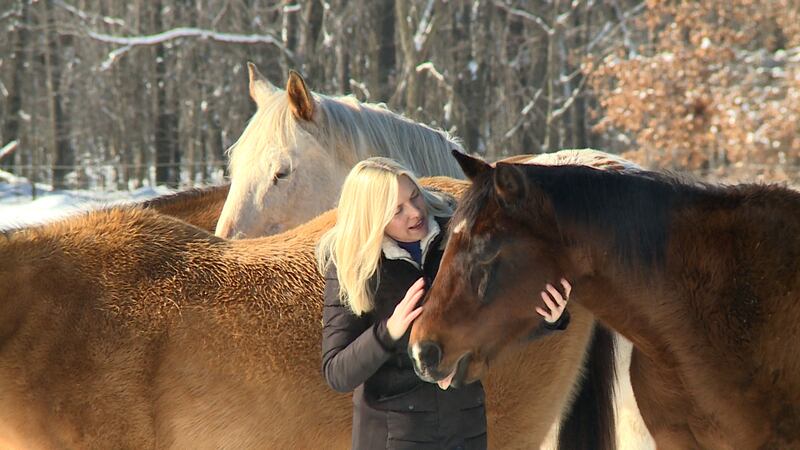 Published: Jan. 26, 2023 at 6:31 PM CST
MONDOVI, Wis. (WEAU) - The Heart of a Horse, a therapy ranch just south of Eau Claire, was started by Robert Goodland after he realized the significant impact his animals had on his journey to healing.
Goodland said using horses to work through his own trauma is what inspired him to help others in the same way.
The Heart of a Horse ranch offers more than traditional therapy to people seeking help. It's a hands on healing experience with horses and a trauma coach.
"My job as a coach is to help them find the answers that they already have. They aren't broken, they aren't damaged. Just things have happened to them and they have their own answers. They know their way clear and it's my job to help them to bring that out. I get to partner with the horses to do that," Goodland said.
Goodland said his clients learn a lot from the horses.
"The horses bring an incredible quality to it. They bring something to our lives that is very grounding and very settling. They're very spiritual. I have seen the horses do things in sessions with people that is impossible to explain," Goodland said.
One client, Sharon Kappus, said because of her past trauma she often feels disconnected from reality, but working with horses helped her reconnect with herself and the world around her.
"I've been through a lot of therapy. I think part of me felt like I had gone as far as I was going to go... I just look at it as a miracle. Miracles happen here," Kappus said.
Executive Director of Eau Claire Sober Living, Michelle Markquart, said she recommends Goodland's services.
"It's been fascinating to me in the number of times that I've brought people out to work with Robert. And I'll often sit in with sessions with my ladies and he has an uncanny knack for finding exactly what that person needs to to go into what they need to work on," Markquart said.
Goodland said it's his passion to help others get through tough times.
"We're all on different parts of our own path and sometimes some other people are walking a very similar path, but they just aren't as far along. So those of us that are a little bit further ahead, maybe on the other side of the flames, we can hand buckets of water back to them who are still in the flames," Goodland said.
The Heart of a Horse offers various coaching sessions with or without horses, more information can be found here. An open house will also be held at the ranch in Mondovi on May 13th from 1-5pm.
Copyright 2023 WEAU. All rights reserved.