A few chances of light snow this week; Arctic air arrives this weekend
Seasonable temps are expected until the weekend
Published: Jan. 23, 2023 at 1:37 PM CST
ROCHESTER, Minn. (KTTC) – Clouds are once again thickening across the area this afternoon and the beautiful sunshine we enjoyed throughout the morning is gone for now. A disturbance from the northwest is generating a southwest breeze that is working to pull in warmer air, but it's also bringing clouds and a few snow flurries to our area. High temperatures will be in the upper 20s to low 30s this afternoon and evening with brisk southwest and then westerly winds.
Clouds will hang around for most of the night tonight and after some evening flurries, temperatures will begin to drop a little, eventually dipping into the upper teens while west winds diminish.
A few breaks of sunshine are expected throughout the day Tuesday with a slight southwest breeze and temperatures will once again climb a few degrees above the seasonal average which is in the low 20s this time of the year. Expect readings in the upper 20s tomorrow afternoon.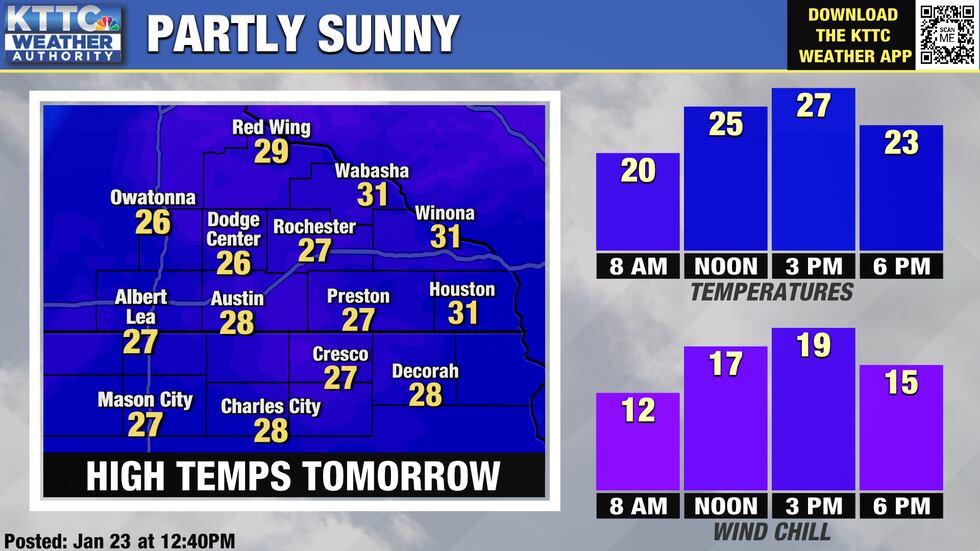 A clipper-type storm system will move into the area from the northwest Wednesday, bringing a chance of light snow to the area. A few snowflakes will be possible in the morning, but activity will pick up a bit later in the day with a minor coating of up to an inch of accumulation will be possible. High temperatures will be in the upper 20s with a slight northerly breeze.
We'll enjoy some chilly sunshine on Thursday between storm systems before the active weather pattern draws in another weak storm system that will bring light morning snow on Friday.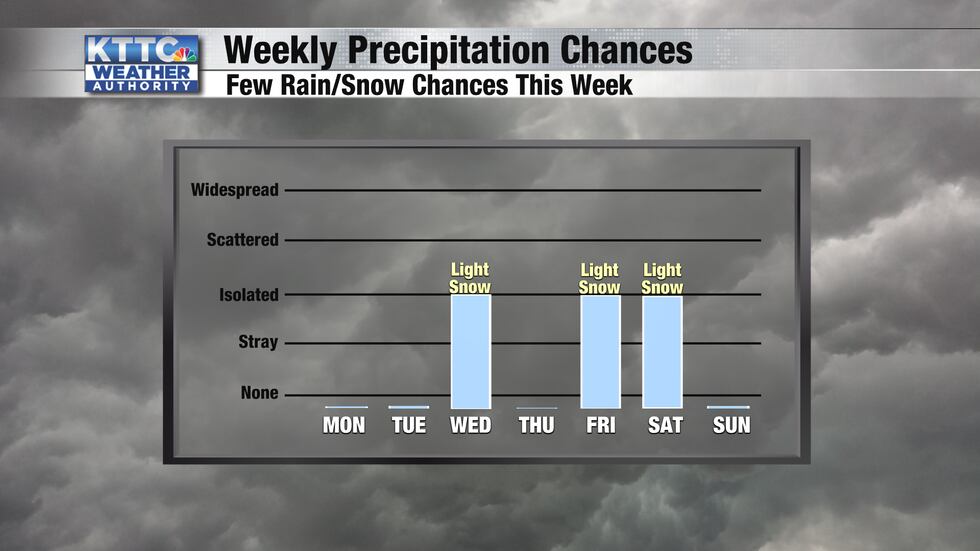 A storm system will again graze the area to the south Saturday afternoon, bringing a chance for minor accumulation to the area. Arctic air will pour into the region in the afternoon on gusty, raw northwest winds. High temperatures will be in the teens.
There will be a chance for a few breaks of sunshine on Sunday, but that won't likely help temperatures much as Arctic air wins out, giving us high temperatures only in the single digits.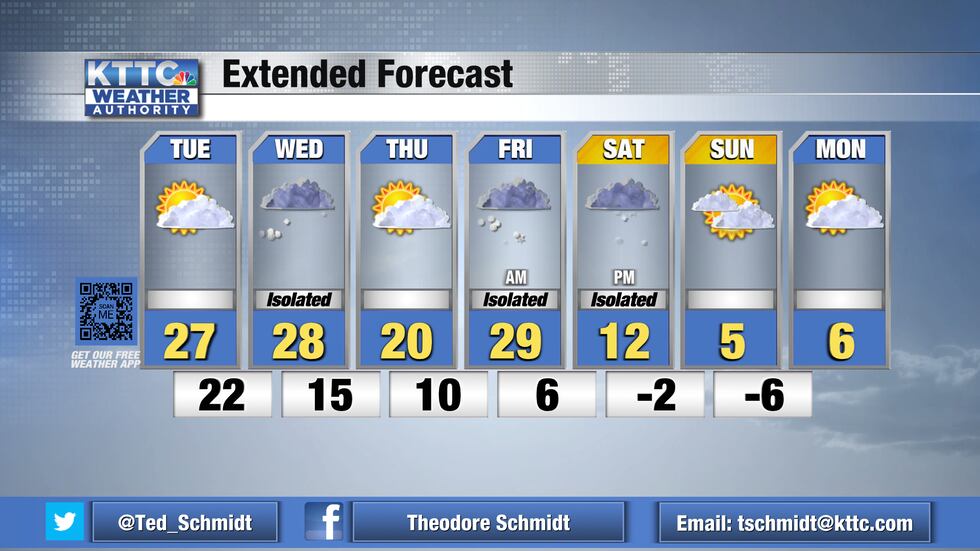 It looks like the Arctic air will hang around throughout next week with sunshine in store for most of the week and high temperatures will be in the single digits with lows slightly below zero.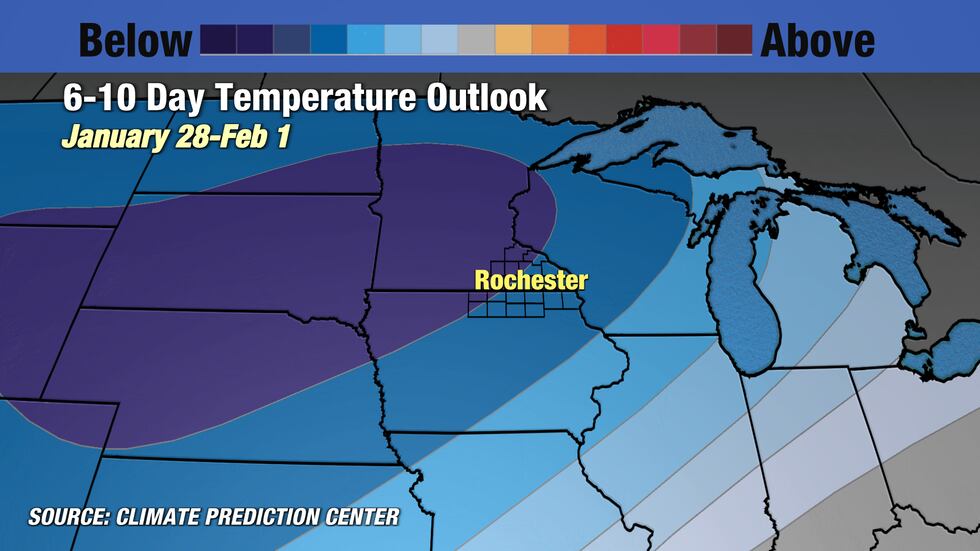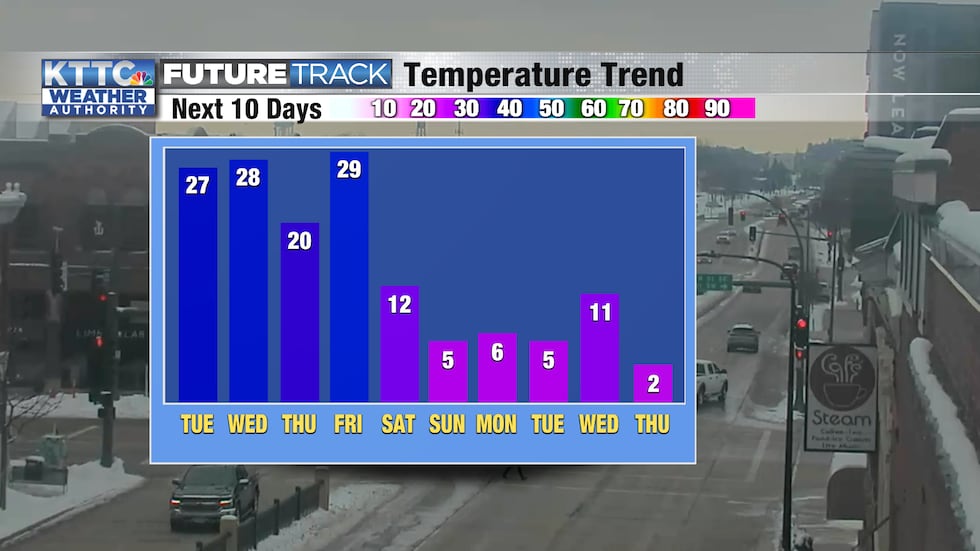 Copyright 2023 KTTC. All rights reserved.