"Homecoming Queen" exhibit opening at Rochester Art Center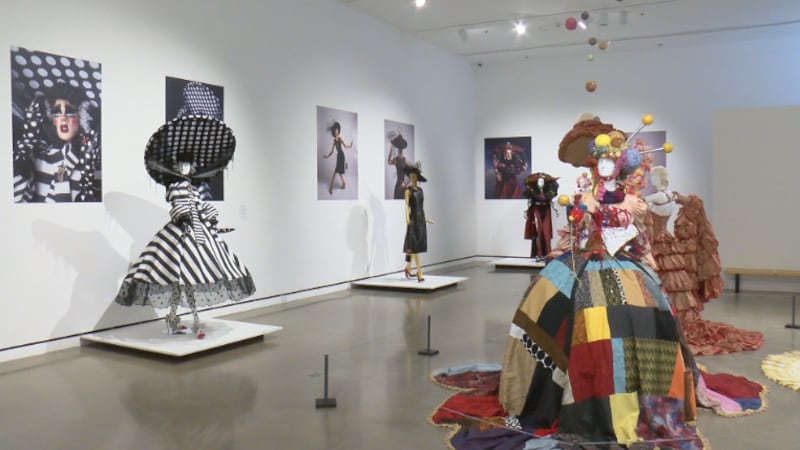 Published: Dec. 4, 2021 at 5:39 PM CST
ROCHESTER, Minn. (KTTC) – The Rochester Art Center is crowning a new Homecoming Queen Saturday night.
It's part of their newest exhibit "Homecoming Queen" which features costumes, photos and sketches of drag queen and visual artist Ethan Mundt also known as Utica Queen.
Mundt grew up in Utica, Minn., which is about 30 minutes east of Rochester. He went on to compete in season 13 of "RuPaul's Drag Race."
He started out cosplaying, and when he moved off to college, he began to explore the art of drag.
Mundt designs and sews all of his costumes, and said he expresses his thoughts and emotions through costuming.
"I'm a very visual person in my head and I think in colors, and I think in shapes so I try to tell the stories that are in my head and the emotions that I'm feeling through the art of costuming and the performative of drag," Mundt said.
The co-curator of the exhibit, Brian Dukerschein, pitched the idea for Homecoming Queen to the art center's executive director earlier this year.
He noticed that there was not a lot of queer representation in southeast Minnesota, and he hopes that this exhibit can be just that.
"It gives to queer community here in Rochester and southern Minnesota a platform and it serves as a catalyst for a lot of meaningful discussions about queerness in Minnesota, in southern Minnesota, and in Rochester especially," Dukerschein said.
The exhibit runs through April 3. Tickets for the exhibit can be purchase here.
Copyright 2021 KTTC. All rights reserved.