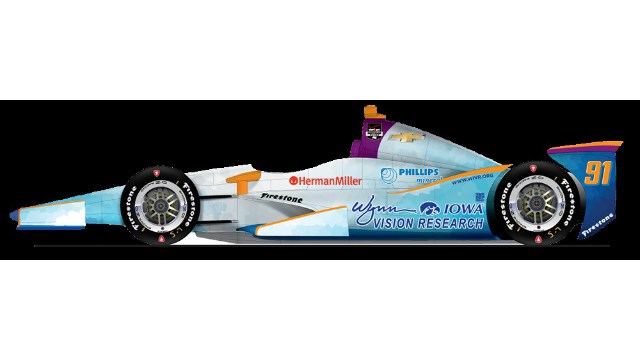 IOWA CITY (KWWL) -
The University of Iowa is hoping to be in the winner's circle after the dust settles at the 2014 Indianapolis 500.
The Stephen A. Wynn Institute for Vision Research, which is housed at the University of Iowa, announced Thursday that their logo -- along with the iconic tigerhawk -- will be proudly displayed on Buddy Lazier's No. 91 Chevrolet.
Lazier Partners Racing and supporters partnered to provide the lead sponsorship of the car.
Jacqueline Lazier, the 12-year-old daughter of the 1996 Indy 500 winner, was born with aniridia, a rare eye disorder. Aniridia, which is characterized by a complete or partial absence of the colored part of the eye, can cause reduced visual acuity and increased sensitivity to light.
Jacqueline, who also has glaucoma, has lost the vision in her right eye. The Wynn Institute is doing research on aniridia and glaucoma.
"Our support of the Wynn Institute is personal to our family and right in line with the goals and purpose of our team," said Lazier Partners Racing co-owner and Buddy's father Bob Lazier in a written statement. "We want to win on the track, and we want to help people achieve their goals every day off the track."
The 98th running of the Indianapolis 500 takes place at the Indianapolis Motor Speedway on May 25. Practice begins on May 11 and qualifying is scheduled for May 17 and 18.
You can learn more about supporting the Wynn Institute by visiting
www.buddysdrive.org
.