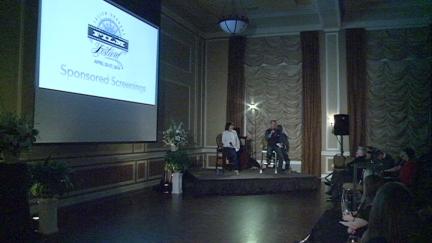 DUBUQUE (KWWL) -
The Julien Dubuque International Film Festival is preparing for its third year in Dubuque. During the festival's reveal party Thursday evening, organizers revealed actress Abigail Breslin as this year's honorary chair. Breslin is in films such as "Little Miss Sunshine" and most recently, "Enders Game."
Organizers also revealed this year the festival will feature a special screening of the movie "Field of Dreams", in honor of the film's 25th anniversary.
Each year the festival draws thousands to the Dubuque area. Organizers say the festival has grown in size every year.
"It's been crazy, actually. We had about 30 official submissions last year for the festival because we are so new. We had to really go out and seek out a lot of films. This year we had over 160 submissions, which is incredible," executive director, Michael Coty said.
Coty said that selection was then narrowed down to 50 films which will be showcased during this years festival.
"They are current, they are 2013 films and some of the films are premiers for our festival, which is really cool." Coty said Thursday evening.
The Julien Dubuque International Film Festival will take place April 23-27th.
For the films and more information about the festival, visit its website here. Or its Facebook page here.