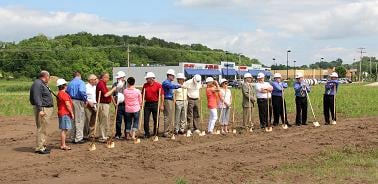 PRAIRIE DU CHIEN, Wis. (KWWL) -
Monday afternoon nearly 200 people gathered for the groundbreaking ceremonies held at the site the new Prairie du Chien Memorial Hospital.
Hospital Board President Paul Ginkel welcomed and recognized local and state officials, PdC Memorial Hospital Board of Directors, Foundation Board members, partners, hospital employees and special guests. Representative Lee Nerison and USDA State Director Stan Grunzynski were also in attendance at Monday's groundbreaking ceremonies.
The new site facility is located on U.S. Hwy 18 across from the Prairie du Chien Municipal Airport.