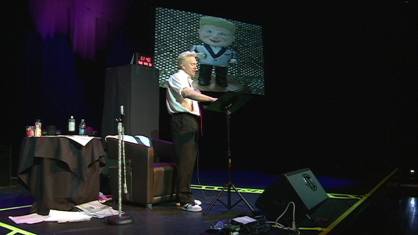 David Scott, known as the Midnight Swinger, trying to break 40-hour record Tuesday of continuous one-man comedy show
DUBUQUE (KWWL) -
A stand-up comedian in Dubuque is trying to break the Guinness World Record for longest one-man comedy show.
David Scott, known as the Midnight Swinger, started at 6 a.m. Monday morning and planned on delivering stand-up comedy until 11 p.m. Tuesday. That would put him at a 41-hour show, breaking the current 40-hour record.
Rules dictate he earns a five-minute break for every hour of stand-up he completes and can't repeat a joke in less than four hours.
"I'm so proud of him!" his friend Nicole Miller said. "Who would take on this kind of feat when you're working? I mean, he had shows last week, he worked, he drove Saturday night, got here, was dedicated to this cause, and has been dedicated since - I don't know it got all sprung on me, which was December-January."
Miller helped Scott try to break the record by recording his show for official purposes, streaming it live online, lending moral support and more.
The show, which is free, continues until 11 p.m. Tuesday at the Mississippi Moon Bar at the Dubuque's Diamond Jo Casino.
Scott needs at least 10 audience members at all times in order to break the records.
He'll appear at the Mississippi Moon Bar later in the week for the venue's annual Comedy 10K.