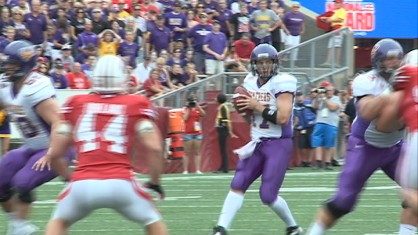 CEDAR FALLS (KWWL) -
The University of Northern Iowa football team finished spring drills Friday with their annual Spring Game presented by Tyson. The defense came away with a spring ball victory over the offense, winning 51-31 with the instituted scoring system.
The offense was led by sophomore Sawyer Kollmorgen, finishing 17-24 with 235 yards. One of the highlights of the game for the Panther offense was a 16-yard passing touchdown to Chad Owens.
Evan Williams finished the game with 54 yards, scoring two touchdowns after sitting out during the fall with an injury. Phil Wright finished with 73 yards in the air and Kreston Caldwell notched 80.
The highlight of the spring game for the defense was a 74-yard interception return from transfer Makinton Dorleant. Dorleant finished with two interceptions and Blake Willson added another to give the Panthers three on the day.
Jake Farley led the team in tackles with six while Jarod Syndergaard added five. Transfer Tate Omli also finished the game with five tackles in his first outing in the purple and gold.
The Panthers will open the 2013 season against Iowa State August 31 in Ames, Iowa.