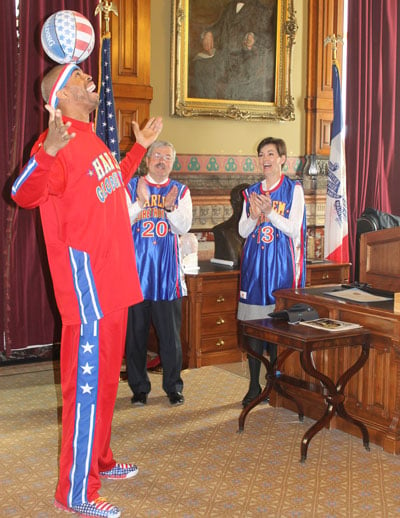 Hammer Harrison, a Harlem Globetrotter, entertains Gov. Terry Branstad and Lt. Gov. Kim Reynolds on April 1.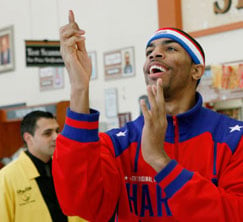 Hammer Harrison
WATERLOO (KWWL) -
A Harlem Globetrotter will speak to youth about bullying prevention in Waterloo on Wednesday -- and perform a few basketball tricks while he's at it.
Hammer Harrison, one of the players of the Harlem Globetrotters basketball team, will give a presentation called "The ABCs of Bullying Prevention" to kids at the Waterloo Boys & Girls Club at 3:30 p.m. Wednesday.
"The ABCs of Bullying Prevention" is a program designed by the Globetrotters in coordination with the National Campaign to Stop Violence in an effort to reduce bullying and violence among youth, according to a press release from the Globetrotters.
The program focuses on "action, bravery and compassion," according to the release.
Harrison will also reportedly incorporate the Globetrotters' signature ball handling skills.
The Harlem Globetrotters will bring their "You Write the Rules" tour to the McLeod Center in Cedar Falls on Wednesday, April 10.
Gov. Terry Branstad on Tuesday proclaimed Sunday, April 7 to be Harlem Globetrotters Day in Iowa after the team visited the governor's office Monday and presented Branstad and Lt. Gov. Kim Reynolds with personalized Globetrotters jerseys.