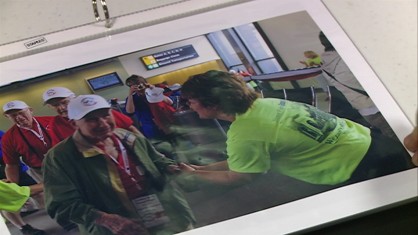 MARION (KWWL) -
It was a full house at a Marion movie theater Wednesday night in support of our veterans. Two-hundred people bought tickets to see Honor Flight, One Last Mission at Collins Road Theaters.
The screening was a fundraiser for Eastern Iowa Honor Flight, an organization who takes veterans to our nation's capitol to see the war memorials.
The film chronicles the journey of veterans from Wisconsin who've taken the journey.
"It takes them from their life during the war, their life afterwards, to their experiences in Washington, D.C. at the memorials reliving their adventures, meeting up with people that they thought they'd never see again," said George Rickey, Eastern Iowa Honor Flight.
Eastern Iowa Honor Flight serves the Cedar Rapids area and has two scheduled flights this spring. The first is April 23rd and the other is May 21st. If you're a veteran, or know a veteran who would want to take the trip, click here.
Waterloo has three flights scheduled this year. They're scheduled for April 16th, June 18th, and September 17th. To contact the Waterloo chapter about their flights, click here.
Dubuque has flights on September 16th and 17th. Their applications are on their web site, which you can find here.