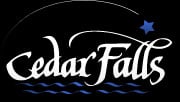 CEDAR FALLS (KWWL) -
An electrical malfunction at a wastewater lift station led to a wastewater overflow this past weekend until Monday at noon, according to the City of Cedar Falls Department of Public Works.
The malfunction happened near the intersection of Ridgeway Avenue and Highway 58.
The overflow reached a nearby creek that flows southeast to Ranchero Road in Waterloo.
The quantity of wastewater that overflowed is unknown, but could be in the range of 50,000 to 100,000 gallons.
Residents should avoid contact with that creek for the next week.