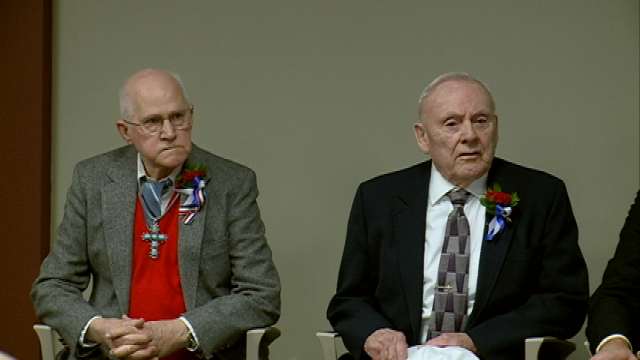 WATERLOO (KWWL) -
Two veterans finally received their war medals after years of waiting.
Edward Peters, a World War II veteran, and Howard Masters, a Korean War Army veteran, finally received their service medals Monday.
U.S. Rep. Bruce Braley awarded the medals in a ceremony at Bridges Senior Lifestyles Center.
Masters received three medals Monday and said he couldn't be happier.
"At one time, the Korean War was not a war, it was a police action, so we were not very well appreciated when we came home," Masters said. "But this kind of makes up for it."
Braley also traveled to the Iowa Veterans Home in Marshalltown to present copies of the Congressional Record honoring the memory of Travis Vaughn to his family.
Vaughn was killed in a Chinook crash in Afghanistan six years ago.
----------------------
Correction: An earlier version of this story incorrectly quoted Masters as saying "the Korean War was not a war, it was a plea sanction...." Corrected at 4:47 p.m. Monday.