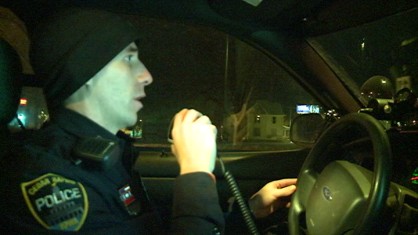 CEDAR RAPIDS (KWWL) -
New Year's Day is the deadliest day of the year on the roadways. According to AAA, the day ranks highest when it comes to the number of alcohol-related fatalities. Eastern Iowa police officers are ready.
Lucas Liddle has been a Cedar Rapids police officer for seven years. He's worked almost every New Year's Eve since then and knows what to expect.
"A lot of traffic, a lot of crowds, and a lot of intoxicated people," said Liddle.
Monday night's shift started with what appeared to be a possible drunk driver a woman who ended up hitting a tree and fence when driving off I380. She turned out to be a diabetic having blood sugar problems.
After a trip to St. Luke's hospital where the woman was doing better, it was time to pull over a car with expired plates. The officer smelled marijuana and called for back-up.
The kids in the car were not impaired and did not have any illegal drugs on them but did receive other minor citations. Stops like this one are often how officers find drunk drivers.
"That's usually how we detect alcohol and impairment is how well they're able to interact with us," said Liddle.
Liddle also drove by local bars to remind those out celebrating New Year's that the police department is watching.
Officers say be careful when you drink and never drink and drive.