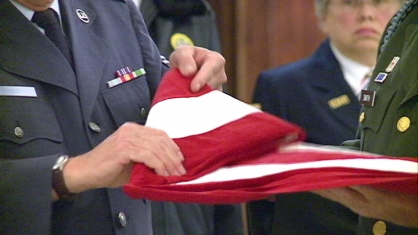 DUBUQUE (KWWL) -
A solemn ceremony Friday evening in downtown Dubuque marked the 71st anniversary of the bombing of Pearl Harbor.
Members of Dubuque's American Legion post met in the lobby of the Roshek Building and folded an American Flag. Each of the 13 folds has a meaning. A past commander of Dubuque's American Legion post, Bill Kubler, shared those meanings with the crowd, plus the significance of the red, white and blue.
"The flag is what all veterans defended, fought for, died for, were wounded for and so forth," he said after the ceremony.
Also in the lobby, a Roshek Christmas will be on display through January 2. It features live music and events throughout the month, plus bright holiday decorations. There's are many lit trees, including one at which members of the public can write a holiday message to a service member overseas.