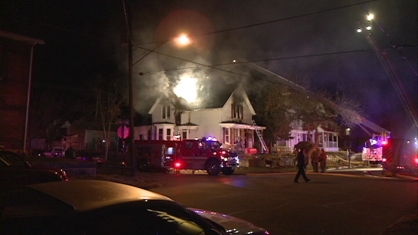 The house at 1001 Garfield Avenue in Dubuque burned early Tuesday morning.
DUBUQUE (KWWL) -
The Dubuque Fire Department responded to a call a little before 4 a.m. Tuesday morning. They found the house at 1001 Garfield Avenue engulfed in flames.
Police chief Dan Brown said everyone inside got out safely. He said the fire started in the basement and quickly shot up two stories and into the attic.
Officials say three adults and three kids lived in the home.

Around 6 a.m. Tuesday morning, the parents of the three kids returned to the scene. The father, Chris Mayne, 32, had burns on parts of his face and hands. He and his partner Tiffany Leppert said their children, ages 7, 8 and 10, were safe and not on the scene at that time. Mayne said they'd lived in the house for more than three years. He said watching his house burn, "it's sick."
Mayne said he'd fallen asleep on the first floor, while all the bedrooms are on the second floor. He said he awoke to heat and a red glow. He got burned trying to deal with the blaze. He, Leppert and the children got out and refused medical treatment at the scene.
UPDATE: A media release Tuesday evening says the initial investigation indicates the cause of the cause of the fire may have been due to methamphetamine manufacturing in the basement.
The Dubuque Fire Department, the Dubuque Police Department and its Drug Task Force, as well as the Department of Human Services continue to investigate the situation.
Officials are now calling the house a total loss.