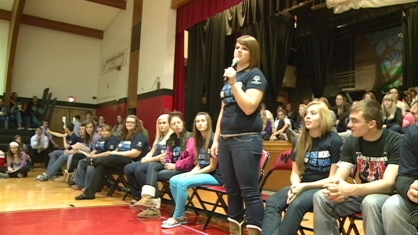 DUBUQUE (KWWL) -
At an all-school assembly Thursday afternoon, the 800 students of Western Dubuque High School heard a message that is growing statewide, nationwide and even globally.
The school's club called Partners, which pairs students with special needs and students who can help them out and be friends, advocated for their peers to stop using the hurtful and derogatory term "retarded" in all forms.
The special needs students and their partners spoke about the Partners program, explained why the "R-word" is hurtful and demonstrated some Special Olympics Iowa sports. Several of the students in the Partners club are athletes.
Caleb Ernzen, one such Special Olympics Iowa athlete and Western Dubuque High School student, said he wants his peers to be aware of their use of the "R-word."
"I hope that they don't use it and they can stand out and just get rid of it," he said.
Senior Mark Zalaznik's involvement with the club inspired him to continue working with people with special in his future.
"Before I got to this group, I never really knew what I wanted to do after school, and now I'm planning to go to Clarke and go for special needs education," he said.
Special Olympics Iowa holds its winter games in the Dubuque area in January.