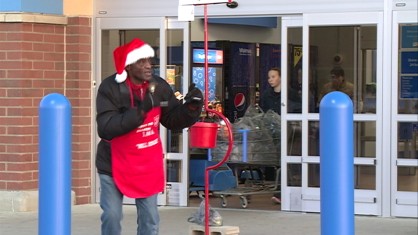 JOHNSON COUNTY (KWWL) -
A secret Santa hit up a Salvation Army Red Kettle in Johnson County earlier this month.
There was a gold South African coin found in one of the kettles.
It's about the size of a dime, but worth $175.
This is the fifth year someone has donated a gold coin to the Johnson County Salvation Army.
"We're pretty sure that it's probably the same person," said Lia Pontarelli, Director of Development & Communications. "Knowing that there's one person out there that's that committed to making the donation, but also because they see the results when we get the coin, they see how it excites the community, and knowing that there's somebody out there that wants to help light that fire in the community."
So far the Salvation Army has collected about 22 percent of its $350,000 goal.
The money raised from the red kettle campaign is about half the Johnson County organization's annual budget.