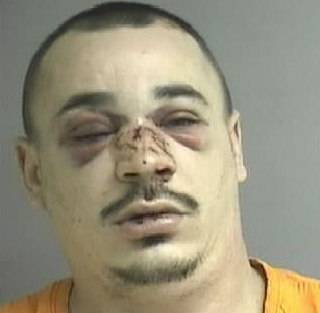 Jeremy Dewayne Rud
CEDAR RAPIDS (KWWL) -
Cedar Rapids Police have made an arrest in connection with Sunday's fatal hit and run accident in Cedar Rapids.
Police say they arrested Jeremy Rud on Monday afternoon. He is charged with multiple traffic violations and vehicular homicide.
Witnesses tell police that Rud, who was driving an SUV, was headed south on 11th Street SW at around 2:30 p.m. Sunday when he ran a stop sign at the intersection with 16th Avenue and was hit by a car that was headed east on 16th Avenue.
A passenger in Rud's SUV, 30-year-old Jennifer Hopkins, died after being thrown from the SUV during the crash.
The driver of the Camry, 55-year old Mark McDowell, and his four grandchildren received minor injuries in the crash.
Rud is charged with one count of vehicular homicide, one count of accident - damage to vehicle, one count of driving while revoked, one count of death or personal injury, one count of no insurance in an accident, reckless driving, seatbelt violation, and other traffic violations.