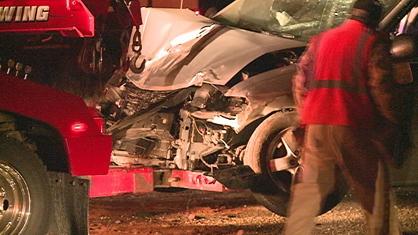 DUBUQUE COUNTY (KWWL) -
A two vehicle accident in Dubuque County Friday evening sent five people to the hospital.
It happened at the intersection of Highway 20 and Cottingham Road just after 5:30 p.m.
The Dubuque County Sheriff's Office said a car driven by 16-year-old Sawyer Brehm of Peosta failed to yield at an intersection and was hit by a van driven by 72-year-old Chuck Pierce of Cascade.
Pierce and Brehm were taken to the hospital for non-life threatening injuries.
Three passengers in Pierce's van were also injured. 79-year-old Geraldine Pierce, 73-year-old Theresa Drew and 86-year-old Ione Beringer were transported to the hospital.
Beringer was later transported to Iowa City for her injuries.
Sawyer Brehm was cited for failing to yield.